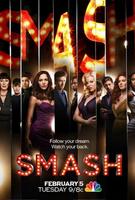 TV Info
---
Episode Premiere
April 23, 2012

Distributor
NBC

Genre
Drama, Musical

Show Period
2012 - 2013

Production Company
DreamWorks TV, Universal Media Studios


Cast and Crew
---
Director
Michael Mayer
Screenwriter
Theresa Rebeck
Main Cast
Additional Cast
Uma Thurman as Rebecca Duvall
Michael Cristofer
Thorsten Kaye
Synopsis
---
Before rehearsal, Derek confides in Karen that she makes a sensational Marilyn. Crafty as always, Ellis overhears the conversation and informs Randall of Rebecca's compromised position. Rebecca glides into rehearsal late, but she refuses to work on the day's scheduled song. "Mr. and Mrs. Smith" needs to be rewritten for her voice.
After rehearsal, Rebecca invites Karen to party with her. Karen is unable to contain her excitement, blowing Dev off in the process. Rebecca persuades Karen to sing at the club, sneakily gauging her competition. Karen's rendition of Leona Lewis' "Run" mesmerizes the audience and Rebecca.
Derek is clearly losing his control over rehearsals, and Tom is unafraid to loudly call him out. The cast, including Rebecca, listens to the screaming match, giving Rebecca a moment of humility. Tom's newly penned song is handed to Karen as Marilyn's shadow per Rebecca's suggestion.
New BFFs Karen and Rebecca prep for their night on the town. Piles of expensive clothes are dumped on Karen's bed as a gift. Rebecca advises Karen to monitor Dev carefully, as boyfriends don't react well to girlfriends gaining power. The new party lifestyle Rebecca introduces to Karen drags down her relationship with Dev, causing intense jealousy on his part.
After so many "dates," Karen has Dev and Rebecca finally meet. The tension between Karen's two "lovers" is strong, as they argue over Karen's time and attention. Dev wants Karen to choose her own path, but Rebecca vows her current path to fame will ultimately be beneficial.
As Julia and Tom practice the new song, Frank arrives to pick up Leo for the weekend - but Leo isn't with Julia. Both received texts saying he was staying with the other parent.
Leo's best friend Mason lies to Julia and Frank, insisting he doesn't know Leo's location. Julia remains suspicious though and follows Mason to school, threatening to ruin his life if he doesn't confess. Backed into a corner, Mason admits Leo stayed in his room for the past three days to recover from his broken home life.
Julia begs Frank not to go after Leo, but to let him return in his own time. As the two prepare dinner, Leo enters, fearful of his parents' reaction. They welcome him home with open arms and plates packed with rich food.
Eileen and Nick run into her ex Jerry in the Brooklyn Academy of Music lobby. The show bored Nick, much to Jerry's condescending amusement. He accuses Eileen of dating the pool boy, but she's heard enough. Nick is nothing like Jerry, which is why she's falling so hard for him.
Ivy plants seeds of powerlessness in Derek, sparking a confrontation with his wayward Broadway star. He's in control, not Rebecca!
Gipped of the new song, Ivy plans revenge against Karen, employing Ellis' help. Ellis texts Karen from Josie's phone, informing her she's off for the day. With Karen gone, Derek gives the solo to Ivy. Eileen wipes away tears from Ivy's beautiful performance. Position threatened, Rebecca coyly suggests Marilyn sing the song.