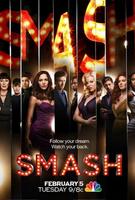 TV Info
---
Episode Premiere
April 16, 2012

Distributor
NBC

Genre
Drama, Musical

Show Period
2012 - 2013

Production Company
DreamWorks TV, Universal Media Studios


Cast and Crew
---
Director
Tricia Brock
Screenwriter
Julie Rottenberg, Elisa Zuritsky
Main Cast
Additional Cast
Synopsis
---
The cast is all jitters and nerves: they're going to perform with the famous Rebecca Duvall! Fearlessly approaching the piano, Rebecca dives right into the music. In shocked horror, Eileen and the cast quickly realize Rebecca can't sing. Derek proposes they bring Ivy in for vocal support. Now that the musical has a celebrity tacked onto the cast, Karen is pushed back into the chorus.
Annoyed with Tom and Sam's flirtatious behavior, Julia makes restaurant reservations for them. Strolling the streets, the two agree to ditch the food plans and head back to Tom's apartment. Chemistry between Tom and Sam is strong, but Sam refuses to get physical beyond kissing. Sex is holy, so he suggests they wait, to Tom's shock.
Julia meets Frank to update him on Leo's reaction to their separation: Leo, once a strong student, is failing two classes, and it's all Julia's fault. Leo's future is going downhill fast because of her poor choices, Julia admits.
Julia mediates the family intervention regarding Leo's grades. Despite the situation's difficulty, Leo shouldn't screw up his life simply because Julia screwed up hers. His future is bright if his grades maintain their previous excellence.
Eileen is surprised by a voicemail from Nick, requesting she call him. Waiting several days, Eileen finally works up the nerve to talk to Nick. Despite her hesitation, they meet at his bar to discuss their budding romance. Nick's past is tumultuous, but he soothes her fears by kissing her passionately.
Rebecca Duvall as Marilyn rapidly spirals the musical downward; her "helpful suggestions" on improving the show are preposterous and offensive to Tom especially. The music needs to be "more fun" and the scenes should dig deeper into Marilyn's character. Even rehearsal is abruptly halted by Rebecca's suggestions.
During break, Rebecca's drunken ex-boyfriend stumbles into rehearsal, demanding to know why she hasn't called. Derek muscles him out of the room, while Eileen threatens him with pepper spray. Swiftly, the media catches wind of the rehearsal ruckus. Rebecca's media draw is clear and Eileen plays into the attention: Rebecca will get her one extra-long, character-driven scene.
Delighted with the new scene, Rebecca suggests all the scenes are expanded and many of the songs slashed. Unfortunately, Rebecca assumes too much power, and Eileen refuses to let her ruin a perfectly good musical. Eileen, Julia, Tom and Derek expect severe backlash from Rebecca when they delicately reject her offers, but she's surprisingly obliging. Unbeknownst to them, Rebecca actually knew her voice wasn't strong; her compromising proposals for key changes and more chorus involvement will only strengthen the musical.
In a good will move, Rebecca offers free screening tickets to the cast for her new movie, Casual Friday 2. Karen swings by Dev's office to invite him to the screening, but Paul lounges comfortably at Dev's desk. He's the new press secretary, not Dev! Confused, Karen finds Dev cramped into a small cubicle, RJ draped over his desk. Forgiving him for the lack of communication, Karen begs him to come to the screening.
Expecting the best, Karen waits patiently outside the screening for Dev. During the movie, Dev finally texts her that he doesn't feel up to the outing. Ivy notices how upset she is, so the two share several drinks at the adjoining bar. If Karen isn't comforting Dev about the promotion, someone else is, Ivy callously says. The goodwill spell between the two is broken, and Karen dashes out of the bar. Like Ivy predicted, their bed is cold and empty when Karen reaches home.
After three grueling days of rehearsal implementing the new changes, the cast performs "Dig Deep." Much to everyone's relief, Rebecca shines as Marilyn.