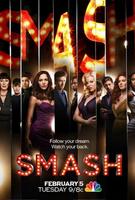 TV Info
---
Episode Premiere
April 09, 2012

Distributor
NBC

Genre
Drama, Musical

Show Period
2012 - 2013

Production Company
DreamWorks TV, Universal Media Studios


Cast and Crew
---
Director
Adam Bernstein
Screenwriter
Jerome Hairston
Main Cast
Additional Cast
Synopsis
---
The investors are all assembled for Marilyn's first table read. But there's one little problem... their star is stuck in Cuba. The investors aren't too happy with this news; the whole production seems on shaky ground as is. But the show MUST go on, and Derek decides to stage with show with Karen as Marilyn for now. Karen is officially asked to be Marilyn's understudy, a responsibility that she's thrilled to accept! Ivy, out of a job after her onstage meltdown, is heartbroken to learn that Karen's living out a role that was once rightfully hers.
Tom and John's budding relationship hits a rough patch when Sam starts becoming a solid fixture in Tom's life. Though these two couldn't be more different, there's clearly some chemistry between them that John picks up on. Tom doesn't do a very good job of trying to hide their flirtation either!
Ivy may be out of a job, but she's not out of hope. After an empowering rendition of Kelly Clarkson's "Breakaway," she decides that maybe by playing nice she can weasel her way back into the production. Ivy surprises everyone when she shows up to a drink date with the chorus and even congratulates Karen on being the understudy. Karen's forced to wonder... is this behavior genuine? Or is Ivy up to something?
The reality of rehearsing as Marilyn isn't shaping up to be what Karen had hoped for, as Derek ruthlessly tears into Karen for screwing up the staging. Karen can't catch a break with Dev either; he loses his cool when Karen lets it slip that Derek sexually harassed her during their first meeting. Little does Karen know that Dev's got his own suspicious flirtation with RJ happening at work... she's the one who should really be concerned!
Eileen's investors are driving her up a wall, demanding answers on the whereabouts of Rebecca Duvall. Eileen unloads on her bartender and flirty-friend Nick, who surprises Eileen by revealing that he may have a solution to her woes: one big investor to cover all her costs. Eileen's dubious, but agrees to meet with Nick's mystery man.
Since their star is MIA, Derek decides to work on their all-male musical number. Tom fills in for the character of Zanuck during this fast-paced and funny song, "Don't Say Yes." Looks like the composer's got musical chops!
Nick introduces Eileen to his potential investor: aging rock star Randy Cobra. This mess of a man looks like the last person who would invest in a musical, but apparently, he's got seven million dollars to spare. Eileen drives a hard bargain, convincing the chronically drunk Cobra that investing in Marilyn is a smart idea. After closing the deal, Nick plants a kiss on Eileen!
Tom's had it with Julia's erratic behavior; she rudely blew off a newspaper interview, in addition to walking out during a high school production of one of their plays. Julia finally confesses to Tom what's been bothering her: Frank walked out on her and Leo. She couldn't bring herself to tell Tom earlier because saying it out loud would make it true.
John confronts Tom about his feelings for Sam, but Tom plays dumb, claiming there's nothing there. John sees right through it and walks out, telling Tom he refuses to date someone who clearly has feelings for someone else.
Derek pays a visit to Karen to deliver bleak news: Rebecca will be arriving tomorrow. Which means that, at least for now, Karen's run as Marilyn is up. Derek also apologizes for that first night when he came on to her, admitting that he was rude and presumptuous. On his way out, Derek runs into Dev, who naturally assumes the worst. The two have at it, throwing punches until Karen hears the ruckus and pulls them apart.
During her final day of rehearsal, Karen shines as Marilyn during her rendition of "Never Give All the Heart." But Karen's moment in the spotlight is cut short when the famous Rebecca Duvall finally arrives!