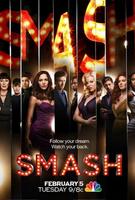 TV Info
---
Episode Premiere
April 02, 2012

Distributor
NBC

Genre
Drama, Musical

Show Period
2012 - 2013

Production Company
DreamWorks TV, Universal Media Studios


Cast and Crew
---
Director
Paul McGuigan
Screenwriter
Scott Burkhardt
Main Cast
Synopsis
---
After Derek's failed attempt to hijack the musical, Eileen and the team regroup to try to put the pieces of their shattered project back together. Eileen insists that she needs a star in order to make it to Broadway and demands a title out of Julia and Tom. Derek is resistant to Eileen's new direction, but Eileen puts her foot down and demands that the search for a star move forward as planned.
With the project on the rocks, Karen and Ivy pursue new projects to try to stay afloat. Imagine their surprise when they run into each other at the audition for a national orange juice commercial... these two really can't avoid running into each other!
Ivy's less than thrilled to have her old job back in the chorus of "Heaven on Earth." Bored out of her mind, she has a hard time giving it her all after having a small taste of the big time. Will Ivy ever get the big break she deserves?
Frank finds some incriminating music lyrics by Julia's bed, as they don't seem to play into the Marilyn storyline. With allusions to deception, a love affair and the Brooklyn Bridge, something about this isn't quite right. When Julia arrives home, Frank confronts her about the lyrics, and Julia knows she's been found out. Frank tears into Julia about her affair with Michael, rejecting her attempts at an apology. She broke their family, and there's nothing she can do now.
Karen can't believe it... she's landed the commercial! Arriving on set, the experience isn't anything like she'd imagined, as she's dressed from head to toe in a green body suit and the entire set is CGI. But a gig's a gig... she can't complain!
The team's on a hunt to find a star for Marilyn... and Ellis is determined to be the one who reels her in. Using some assistant insider connections, Ellis manages to weasel his way into a meeting with the famous actress Rebecca Duvall's assistant... and tries to talk his way into getting Marilyn in front of Rebecca. The assistant does admit that Rebecca's interested in moving in a different direction; maybe he can work some magic.
Ivy's at her wits end and decides to take some drastic measures during a performance of "Heaven on Earth." Ivy pops one too many pills before a number and has a complete meltdown on stage, ruining the number before getting thrown out. Could this be the end of Ivy's Broadway career?
Karen comes to the show to return Ivy's sunglasses, which she accidentally swapped with Ivy when she ran into her at the commercial audition. Adding insult to injury, imagine Ivy's horror when she finds out that Karen witnessed her meltdown. The two have at it, as Ivy's had enough of Karen's small town act, and Karen's had enough of Ivy's rude behavior. The two then actually manage to find some common ground: they both need a drink.
Frank's a man on a mission and confronts Michael about his affair with Julia. Michael lets slip that it should have ended a long time ago... leading Frank to find out that this affair wasn't just a one-time thing. Frank goes back to the house and packs up his things, yelling at Julia to tell him how long this has really been going on. Julia's REALLY screwed now, as Frank leaves with a sense of finality.
Karen and Ivy wander the streets of New York, brown-baggin' it with a bottle of vodka. These two seem to be getting along and manage to put their differences aside for an impromptu street performance of Rihanna's "I'll Drink to That."
Tom gets word of Ivy's onstage meltdown and rushes to her apartment only to find Sam there as well. With no response from Ivy, these two are worried and decide to wait it out for Ivy to come home. After spending all night at a diner, Tom and Sam find that their differences aren't so alienating after all... could there be something between this very unlikely pair?
Ellis proudly tells Eileen that she should be expecting a call from Rebecca Duvall's agent any minute now, but he leads in with an ultimatum: if they land Rebecca for Marilyn, he wants a co-producer credit. Eileen shuts down Ellis' presumptuous behavior, telling him that casting isn't all that a producer does. Does he plan on negotiating her contract and attending to her every need? Ellis gets put in his place and is lucky that Eileen didn't kick him out of the office then and there.
Julia meets Michael in the aftermath of her fight with Frank to let him know what happened. She tells Michael not to apologize; they acted together. To say it's not her fault would be a ridiculous lie. The two mournfully part ways, as Julia considers the future of her family, in ruins. Later, Julia and Tom finally come up with the name of the musical... "Bombshell."