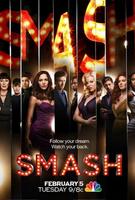 TV Info
---
Episode Premiere
March 26, 2012

Distributor
NBC

Genre
Drama, Musical

Show Period
2012 - 2013

Production Company
DreamWorks TV, Universal Media Studios


Cast and Crew
---
Director
Paris Barclay
Screenwriter
Theresa Rebeck
Main Cast
Additional Cast
Michael Cristofer
Grace Gummer
Synopsis
---
After an inconclusive workshop, the mood is tense and confusing on all sides. It seems like no one is returning anyone's calls, and Ivy is left completely in the dark about her future as Marilyn. Meanwhile, Derek holds a clandestine meeting with Karen, telling her that they're considering taking Marilyn in a new direction with a new experimental song. Not only that, Derek wants Karen to be the voice of this new Marilyn. Karen's obviously thrilled at the opportunity, but is put off when Derek tells her that Tom and Julia absolutely cannot know.
Julia meets with Michael, but this time under less romantic circumstances. Michael is fired, but he admits that if he weren't, he'd quit anyways. It seems that he's finally come to his senses and realizes how much he screwed up in pursuing something with Julia again. They both screwed up; putting their families in jeopardy was an irrational decision. While Julia is glad Michael finally came to his senses, her heartbreak is impossible to hide.
As Eileen settles in to her new apartment, her daughter Katie makes a surprise appearance. "Mahatma Katie," as she's known, is a do-gooder who travels the world. Eileen's thrilled to see her daughter, who explains that she came back because Dad transferred a massive amount of money into her trust fund. She knew that had to mean that Dad was messing with Mom financially... and she was right. Katie's determined to set the record straight and mediate some sort of agreement between her parents.
Karen, still dubious, meets Derek at a recording studio. She says she's had it with all the secrecy and isn't comfortable with keeping Tom and Julia in the dark after all they've done for her. However, Karen has a change of heart when she discovers that OneRepublic front man and superstar producer Ryan Tedder is involved in the project! Apparently, he wrote a song for the musical specifically for Karen to sing!
Ivy is understandably preoccupied, as she still hasn't heard a word about the future of Marilyn. The chorus tries to life her spirits with a trip to the bowling alley, where they break into song and dance with a rendition of "Dance to the Music."
In the midst of all this secrecy, it seems that the only person who really knows what's going on is Ellis. Moving from the writers to the producer, Ellis overhears some key conversations that give him insight into the undercover Marilyn plans. He decides to stir up some trouble, and "runs in" to Ivy, casually dropping a line about Karen's involvement in Marilyn's new direction. Ivy is enraged and becomes a woman on a mission, determined to figure out exactly what's going on.
Derek and Eileen invite Tom and Julia to a special surprise presentation, setting it up as a possible new direction for Marilyn. Karen gives a seductive performance as a modern Marilyn with original song "Touch Me," which sounds more like a modern club hit than a classic musical number. Tom and Julia are stunned and appalled as Derek makes a mockery of their musical, while Ellis and Ivy secretly watch from behind the rafters.
After the number finishes, Tom and Julia voice their disapproval, reprimanding Eileen and Derek for going behind their backs and hijacking their musical. With the help of her daughter, Eileen realizes that the move was inappropriate and unprofessional and apologies profusely. Derek, however, isn't so remorseful, insisting that a drastic change is needed if they want to keep Marilyn afloat.
Tom and Derek have at it, drumming up some old issues at the root of their constant disagreement. Apparently, the two used to be close friends, that is until Derek threw Tom under the bus and criticized his work to the press. Derek insists that he's standing his ground and not quitting the production, but neither is Tom.
Later, Eileen meets with the team to discuss the future of Marilyn. Julia and Tom will stay on as songwriters, but there are changes that need to be made if they want to move forward. Ivy is wonderful, but they need to cast a star if they want to make it to Broadway. Also, Tom and Julia need to come up with a title.
Tom breaks the news to poor Ivy, who's understanding of the change but also heartbroken. Later, Derek arrives at her apartment to provide his condolences, to which Ivy is at first resentful. But as always, Derek manages to get his way, insisting that the change was just politics. Ivy wasn't just good as Marilyn... she was "more than good." Apparently, that's enough for Ivy, as the two resume their torrid affair.