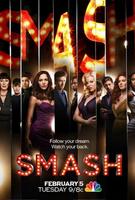 TV Info
---
Episode Premiere
March 19, 2012

Distributor
NBC

Genre
Drama, Musical

Show Period
2012 - 2013

Production Company
DreamWorks TV, Universal Media Studios


Cast and Crew
---
Director
Mimi Leder
Screenwriter
Jason Grote
Main Cast
Additional Cast
Synopsis
---
Karen skips out on rehearsal and goes to the recording studio to cut a demo for the famous but elusive Mr. Raskin. She still doesn't meet the man in the flesh, but she does impress the sound engineer with her rendition of "Brighter Than the Sun."
Ivy arrives at rehearsal with her mother in tow, who is none other than Broadway sensation Leigh Conroy. Leigh is certainly used to hogging the spotlight, and she shows off for the cast with a performance of "Roses Turn." Ivy watches on, clearly sick and tired of her mother's antics. Can't she let Ivy have her turn?
Julia's in the throes of yet another dangerous affair with the irresistible Michael Swift. When Michael's wife and toddler son pay a visit to rehearsal, Julia has a breakdown and heads home to check in on her own family. She's shocked to find Leo at home smoking pot and reprimands him for his behavior. Leo retorts that Julia has some big problems of her own, making a very obvious allusion to her affair with Michael. Leo smugly storms out, leaving Julia stunned.
The workshop's just 24 hours away, and Eileen's got a serious problem: the air conditioner is broken. The bartender at her local watering hole overhears and generously offers up his help. Though he's certainly a bit younger in age than Eileen, there's a surprising flirtation between the two. Eileen takes matters into her own hands, breaking into the boiler room to get his repairman access.
Tom's not-boyfriend John arrives at the workshop and seems to be rubbing everyone the wrong way. But Tom's even more bothered by Sam, who he confesses to Ivy is just "too straight"...not that he has anything against straight people. Ivy laughs in Tom's face; Sam's as gay as they come! The news shocks Tom, and he's forced to wonder: why does Sam's behavior bother him so much anyway?
Though the air-conditioning is STILL not fixed, the show must go on. The workshop begins as Ivy kills the opening number. The sweaty guests watch on as they peel off layers of clothing. But as the workshop continues, things start to fall apart; Ivy makes a few flubs and doesn't seem to be on her A-game.
Michael Swift really steals the show when he performs his solo number, "Lexington and 52nd." As luck would have it, the number comes to a close right as the air-conditioning comes back on. The crew has mixed reviews on how the workshop really went; Derek tells the team they did a great job, but the mood says otherwise. Ivy definitely didn't have her best performance.
Karen gets a callback from Mr. Raskin himself, but opts to stay at the workshop instead of taking a meeting with him. The rest of the ensemble thinks she crazy; this is just a workshop, and recording with Billy Raskin is the opportunity of a lifetime! But Karen sticks to her guns, claiming that she wouldn't miss this workshop for the world.
After the show, Ivy's mom talks about how amazing all the elements of the show were - that is, everything except Ivy. Ivy finally gives her mom a piece of her mind, claiming that nothing she does will ever be good enough for her. Can't she just give her daughter a chance to shine? Leigh is left stunned and embarrassed, realizing that her daughter has a point.
Later, Leigh and Ivy share a rare tender moment when Leigh explains that she just doesn't want her daughter to face any more disappointment. She knows how horrible the world of Broadway can be and is just scared that Marilyn will be another dead end. In Leigh's mind, there's no question that Ivy's a star.
After the workshop, Julia, Tom, Eileen and Derek debrief. Derek believes that bringing in a star may be the appropriate choice, to which Eileen agrees despite Tom's disapproval. Julia and Tom, on the other hand, make the argument that Michael Swift is the real problem. Derek's in a state of disbelief; Michael was amazing in the role! But the writers' solidarity on the issue leads Eileen to believe that maybe replacing Michael is the right choice.
When Julia arrives home, she lets Leo know that Michael has been let go because he "wasn't right for the part." The two have an unspoken moment of understanding before Leo breaks down and starts crying.