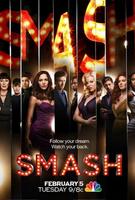 TV Info
---
Episode Premiere
February 20, 2012

Distributor
NBC

Genre
Drama, Musical

Show Period
2012 - 2013

Production Company
DreamWorks TV, Universal Media Studios


Cast and Crew
---
Director
Michael Mayer
Screenwriter
Theresa Rebeck
Main Cast
Additional Cast
Will Chase
Michael Cristofe
Synopsis
---
Making passionate love, Ivy and Derek have found themselves in the midst of a full-fledged affair. Later, Ivy worries to a friend that she only won the role of Marilyn because of her relationship with Derek. Her friends tell her to suck it up and just enjoy the ride; she's landed the role of a lifetime!
Karen agrees to meet Derek for a drink after receiving the devastating news that she didn't land the role of Marilyn. But Derek assures her that there's a spot for her in the ensemble, and a lot can change between now and when the production hits the stage. An overprotective Dev crashes their date, wanting to meet this man that he clearly feels threatened by. The two Brits have at it in a battle of wits.
The team gets down to their next task at hand: finding a DiMaggio. Michael Swift, a Broadway veteran who Julia and Tom have worked with previously, is available for the role. Eileen and Derek go to see him perform in a Bruno Mars show and agree that he's both amazing and perfect for the role. The only question is if he's available and interested.
Karen packs to head back home to Iowa for a baby shower, but she is having her doubts about leaving the city. She's strapped for cash enough as is; the workshop is just going to take away even more from her shifts at the restaurant. Dev reassures her that money is nothing to worry about; he can cover her if need be. Karen is resistant to his financial help, but Dev convinces her to at least consider it.
Later, while Julia and Tom are working on a musical number, the topic of Michael as DiMaggio comes up again. Julia is suspiciously resistant to offering Michael the role; it's clear that there's something she's hiding. Meanwhile, at home with his wife and young son, Michael is equally resistant despite his wife's persistence that the role is a great opportunity.
As Ellis discusses "Marilyn the Musical" with his friends, they point out that he should be getting a cut; the musical was his idea, after all. Ellis mulls this over and decides to exact a bit of revenge, borrowing Julia's highly coveted "notebook" to read up on her ideas. She insists on being exceedingly rude to him, and he's not going to just lie down and take it. Later, Julia blows up at Ellis for no particular reason and threatens to fire him. Ellis stands his ground, noting that last time she tried to fire him, it didn't quite stick.
Julia and Michael run into each other at Eileen's office, and the tension is palpable. When left alone, the two have a brief intimate moment, and it's made clear that these two have a romantic history. Julia rushes away, unable to handle even being around Michael.
Tom learns from Sam, ensemble dancer and friend of Ivy's, that Ivy's under the sheets with Derek Wills. Tom is clearly bothered by the news, but he is even more bothered by the fact that Julia doesn't seem to care. Julia lashes out at Tom, telling him that what Derek and Ivy do in private is none of their business.
Back in Iowa, Karen puts her troubles aside and lets loose at her friend's baby shower. In her element, she gets back to her small town roots with a performance of "Redneck Woman" at a local karaoke bar.
Later, Julia comes clean to Tom: she had an affair with Michael when he was in their show. Her interest in him just started as a show crush, but quickly became something very intense. No one knows about it and Julia plans to keep it that way. Little does Julia know that Ellis is in the next room and hears everything...
As Karen prepares to head back to the big city, her parents put aside their concern for a moment to let Karen know how proud they are of her for pursuing her dreams. It's natural for them to worry, but they just want her to be happy. Karen's dad hands her a check, insisting that a father's allowed to help out her daughter.
Putting her issues with Michael aside, Julia agrees to move forward with Michael as DiMaggio; after all, he's perfect for the role. Ivy and Michael rehearse the original song "Mr. and Mrs. Smith," as we imagine the number coming to life onstage. Julia watches and can't hide her feelings very well, as the two share longing, lustful looks.