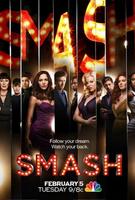 TV Info
---
Episode Premiere
February 13, 2012

Distributor
NBC

Genre
Drama, Musical

Show Period
2012 - 2013

Production Company
DreamWorks TV, Universal Media Studios


Cast and Crew
---
Director
Michael Mayer
Screenwriter
Theresa Rebeck
Main Cast
Synopsis
---
Karen's frustration with Derek's brutal training continues to mount, as she voices her complaints to Dev. Dev has some news of his own; he's having dinner with the deputy mayor, and they're thinking about promoting him. Karen promises she'll be there, knowing how important this dinner is to Dev.
Julia and Frank pay a visit to the adoption agency to follow up on their application to adopt a baby from China. They're shocked to learn that the process will take a minimum of another two years; they've already been waiting for months. Frank's visibly frustrated with the situation.
Frustrated with the lengthy adoption process, Frank tells Julia that maybe they should reconsider moving forward with adoption at all. At this rate, by the time the baby graduates high school he'll be 65. Their son, Leo, overhears and unloads on his parents. Why doesn't he get to be involved in this decision?
Meanwhile, Derek, Eileen, Tom and Julia discuss Karen and Ivy, trying to settle once and for all who's best for the role. Ivy's a trained professional and looks like Marilyn, but Karen's got an innocence and star quality that's hard to ignore. They finally settle on yet another callback, this time for dancing. Then, they'll finally be able to put this debate to rest.
After learning about yet another callback, Karen and Ivy rehearse the dance number with Derek. The two girls meet each other for the first time, and the mood is understandably tense. Karen struggles learning the steps, but her effort seems to be paying off.
Anxiously awaiting a callback, Karen falls into a fantasy in this musical number of "Call Me" by Blondie. Karen is rudely snapped back to reality; she's at work and can't seem to focus on anything until she hears back about the Marilyn role. It's been four days... what could be taking so long?
Eileen and Derek meet at a local restaurant to discuss the progress of Karen and Ivy. Eileen runs into her soon-to-be ex husband Jerry, who was part of their powerhouse couple producing team. Jerry gets in Eileen's face about the project, proclaiming that no one will invest in "Marilyn the Musical," especially if he's not attached. Eileen doesn't take his insults and simply throws her drink in his face and storms out.
Still at odds about the decision to adopt, Frank tells Julia that he wants to go back to work as a high school science teacher. Julia has her writing, but all he's had for the past few months is the waiting. He can't sit idle any longer, and there's always a market for a good science teacher. Julia loyally supports his decision.
At the rehearsal hall, Ivy and Karen anxiously wait for the final dance callback. When everyone arrives and fawns over Ivy, Karen's visibly intimidated as the newcomer and the underdog. But when Karen takes the floor and gives an impressive performance for the number "20th Century Fox Mambo," it's clear that this won't be an easy decision.
Karen agrees to meet Dev for his important dinner after her rehearsal, but she is held late by Derek after she already texts Dev to let him know she's on her way. Recognizing the importance of impressing Derek, Karen stays to rehearse and shows up to the restaurant after the dinner has already ended. Dev is humiliated, but more importantly, he was worried sick about what might have happened to Karen. Karen apologies profusely, but Dev is still visibly upset.
Ivy and Derek rehearse an intimate and emotional Marilyn scene one-on-one. While at first, Ivy has a hard time capturing the essence of the scene, she manages to dig deep and really taps into the role. Derek's impressed by her vulnerability, and the two share an intense moment before ending up in bed together.
Derek comes to Eileen with an important issue. Her soon to be ex-husband, Jerry, picked up the "My Fair Lady" project that Derek spent three years working on. Since the project is now back on schedule, Jerry offered Derek his position back as director. But he didn't take it because he has faith in Eileen and passion for the Marilyn project. Eileen is thrilled that Derek took a stand against Jerry, and they can move forward as planned.
After days of waiting, Tom goes to Ivy to deliver the big news in person... Ivy is Marilyn! Ivy's overcome with joy; after 10 years on the chorus, she finally gets her time to shine!
After Ivy's great news, she hits the town with her friends to celebrate. Ivy's forced onstage at a local lounge by her friends and gives an emotional performance of "Crazy Dreams" to celebrate her win.