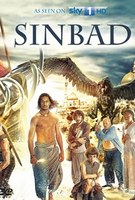 TV Info
---
Episode Premiere
August 03, 2013

Distributor
Syfy

Genre
Adventure, Drama

Show Period
2013 - 2013

Production Company
Impossible Pictures


Cast and Crew
---
Director
Colin Teague
Screenwriter
Richard Kurti & Bev Doyle
Main Cast
Elliot Knight
Naveen Andrews as Lord Akbari
Dimitri Leonidas
Marama Corlett
Elliot Cowan
Estella Daniels
Orla Brady
Synopsis
---
Tiger wrangles the crew a lucrative deal transporting a Professor and her giant egg. The Professor orders the crew to wash the Egg all day and tells curious Anwar that the Egg will bring life to a barren island. When he discovers the island is inhabited she claims she is on a rescue mission to revive the flora and fauna, telling him to keep it a secret. Anwar oversleeps, missing his turn to douse the egg. The gang wake to find the Egg shell in pieces and the food stores ransacked. In the hold they are confronted by an ugly snake-demon, but narrowly escape.
Tiger reassures the Professor that they will fulfil the contract and deliver the snake to the island, but, when Anwar confesses that the island is inhabited, Sinbad decides they must kill it. The Professor tricks Anwar into going into the hold, but Sinbad saves him in the nick of time. With the beast still growing and Cook refusing to abandon ship they resolve to kill the Demon. They realise with horror that the Professor has sacrificed herself to her creation.
Tiger volunteers as bait, but finds the Snake-Demon sick. Suddenly, its head breaks open and the mutated snake-demon-Professor emerges. Tiger returns to the crew. The Snake-Demon forces holes in the hull in an attempt to drown the crew. Cook claims the Professor avoided the dishes he cooked with nuts, and must be dangerously allergic to nuts. They attack the Snake-Demon with nut-laced arrow bolts, but with no effect. The Snake-Demon lunges at Sinbad, but begins to choke as the allergic reaction takes effect. Gunnar quickly decapitates the monster.
Sinbad appeals to the well-travelled Tiger for advice about finding a way to the Land of the Dead. She tells him she has a monk friend with extensive knowledge of ancient and mystical maps so they set sail to see him.