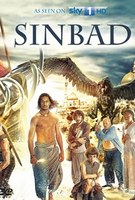 TV Info
---
Episode Premiere
July 20, 2013

Distributor
Syfy

Genre
Adventure, Drama

Show Period
2013 - 2013

Production Company
Impossible Pictures


Cast and Crew
---
Director
Andy Wilson
Screenwriter
Neil Biswas, Jack Lothian
Main Cast
Elliot Knight
Naveen Andrews as Lord Akbari
Dimitri Leonidas
Marama Corlett
Elliot Cowan
Estella Daniels
Orla Brady
Synopsis
---
The gang return to Basra. Sinbad's friend Tazeem, a Basra guard, tells him that Akbari has Safia and plans to execute her after his coronation that night. Tazeem tries to dissuade Sinbad from trying to rescue her, but Sinbad persuades him to get him, Nala and Gunnar into the palace.
Rina and Anwar head to Anwar's house to save his parents, who Anwar fears will be targeted in Akbari's persecution of scientists. Anwar's parents welcome him back home, but Rina realises that they are colluding with Akbari. Guards capture Rina, and Anwar rushes to rescue Rina, walking away from his family. Rina frees herself, but is secretly touched by Anwar's actions.
Tarynun leashes Shadows, strange magical forces, which take Nala and Gunnar. Sinbad finds his grandmother in Taryn's chambers. She tries to warn him it's a trap and that Tazeem has betrayed him, but Sinbad is determined to rescue her. Taryn and the newly crowned Akbari enter. Akbari duels Sinbad, who gets the upper hand. Inspired by his grandmother, Sinbad spares Akbari and tells him he is sorry for his son Raees' death, breaking the curse. To Sinbad's shock Taryn kills Akbari. She tells Sinbad she's realised he has visions of the Land of the Dead. She tells him he's special. Safia thwarts her, destroying the tablet controlling the Shadows, causing Taryn to collapse. The Shadows retreat, releasing Nala and Gunnar.
Safia confesses to Sinbad she wished she had told him the truth of who he is and asks for his forgiveness before passing away. Sinbad forgives Tazeem, who helps him escape. Nala realises that she wants to stay and help rebuild Basra and bids Sinbad and her friends goodbye. As they sail on Sinbad realises the Providence is his home now.