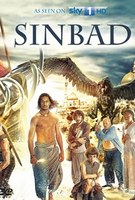 TV Info
---
Episode Premiere
July 13, 2013

Distributor
Syfy

Genre
Adventure, Drama

Show Period
2013 - 2013

Production Company
Impossible Pictures


Cast and Crew
---
Director
Brian Grant
Screenwriter
Harriet Warner
Main Cast
Elliot Knight
Naveen Andrews as Lord Akbari
Dimitri Leonidas
Marama Corlett
Elliot Cowan
Estella Daniels
Orla Brady
Synopsis
---
Taryn convinces Akbari she can draw Sinbad to Basra with the new knowledge of his curse. The Emir confronts Akbari about Taryn's return and banishes him, but Akbari kills the Emir.
The Providence is hit and Sinbad dives in to investigate. He wakes on an island, rescued by mysterious Roisin, who dismisses his claims a sea beast attacked him. When Nala finds him, she isn't impressed by Sinbad's decision to stay with Roisin till dawn then return to the Providence, but accepts it and leaves. Roisin prompts Sinbad to tell his most treasured memories, but Sinbad is unaware that she is stealing the memories and the people in them from him.
In the morning, the curse kicks in. Roisin forces Sinbad to talk about Safia and swallows the memory, lifting the curse. When Sinbad doesn't return, Anwar and Rina come to the island, but realise he has somehow survived the curse. Confronted by a ghostly old woman, they fall into a pit of skeletons. They realise that Roisin plans to kill Sinbad and the apparitions are not ghosts, but Sinbad's memories; the old woman, his grandmother Safia.
They find Sinbad just as Roisin is about to take his last memory before killing him. Rina strikes a bargain with Roisin, her memories for Sinbad's life. She tricks Roisin into believing she is trading happy memories, but instead gives her the memory of being sold into slavery by her mother. Roisin is destroyed and Sinbad's good memories are returned. Sinbad decides that to be fully himself he must take back his bad memories, including Safia and the curse.
Back onboard, Sinbad sees a vision of Safia calling for help. He realises he must return to Basra and save her, unaware that the vision is a trap set by Taryn.