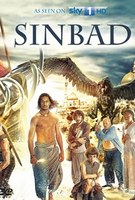 TV Info
---
Episode Premiere
June 22, 2013

Distributor
Syfy

Genre
Adventure, Drama

Show Period
2013 - 2013

Production Company
Impossible Pictures


Cast and Crew
---
Director
Brian Grant
Screenwriter
Steve Thompson
Main Cast
Elliot Knight
Naveen Andrews as Lord Akbari
Dimitri Leonidas
Marama Corlett
Elliot Cowan
Estella Daniels
Orla Brady
Synopsis
---
About to trade with merchant Abdul-Fahim, the crew discover Rina has taken their valuables and left. Anwar returns to Abdul-Fahim to decline the offer, but instead gambles away The Providence. Sinbad confides in Anwar about his curse and that he will die unless they get the ship back. The gang follow Abdul-Fahim to a gaming-house hidden by enchantment.
In Basra, Taryn concocts a 'seeing' spell to find Sinbad and calls for Akbari to try the potion. Akbari almost sees Sinbad, but when Sinbad enters the enchanted gaming house the vision is cut short. Furious that she has tricked him Akbari banishes Taryn.
The gang are surprised to meet Rina, going by the name of Lady Samara. They turn their back on her, apart from Anwar, who has developed a bit of a crush on her. Sinbad challenges Abdul-Fahim to a card game and wins back the ship.
The gaming-house is owned by charming twins Faris and Essam, who show favour to Sinbad. They lead him to a private area, but throw him in a cage with Abdul-Fahim and force them to play a sick game where the first to kill the other wins a pile of gold. Abdul-Fahim lunges for Sinbad, who disarms him, but spares his life.
The twins find out about Sinbad's curse and challenge him to free his friends from a series of enchanted rooms before his curse kills him. He succeeds, but Faris petulantly demands to keep Sinbad as his plaything. Rina becomes concerned about the others and whilst the brothers fight, rescues the curse-stricken Sinbad and drags him out of the casino. The crew welcome Rina back and Sinbad confesses to them about his curse.