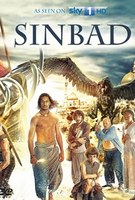 TV Info
---
Episode Premiere
June 15, 2013

Distributor
Syfy

Genre
Adventure, Drama

Show Period
2013 - 2013

Production Company
Impossible Pictures


Cast and Crew
---
Director
Andy Wilson
Screenwriter
James Dormer
Main Cast
Elliot Knight
Naveen Andrews as Lord Akbari
Dimitri Leonidas
Marama Corlett
Elliot Cowan
Estella Daniels
Orla Brady
Synopsis
---
The survivors argue about which one of them should be leader, but are ambushed in the night by Water-Thieves. The crew, apart from Cook, who has a secret hiding place, are captured and taken to the Water-Thieves' lair. While the others are kept prisoner, Sinbad cheekily ensures that fearsome tattooed warrior queen Razia selects him to be her bedchamber entertainment. Sinbad is thwarted trying to escape by a Roc, a large mythical bird, also Razia's prisoner.
Sinbad tries to seduce Razia, but she criticises him for abandoning his crew to save himself. After Sinbad's satisfied her, Razia leaves. Her follower Malik explains Razia kills her lovers and will kill Sinbad that night. He lets slip that he is Razia's son, a secret she keeps from the tribe as she is determined not to show favour.
In Basra, the Emir is wary of Akbari's desire to use magic to find Sinbad, but Akbari will stop at nothing for revenge. Tazeem warns Safia and gets Sinbad's mother to safety. Safia insists on staying, sure that Sinbad will return.
With the Roc's help Sinbad escapes from Razia's chamber. He takes the risk to help the others, causing a commotion to allow them to escape. A stand-off occurs and Sinbad holds Malik hostage, revealing to the tribe that he is Razia's son. Khalid, an ambitious water-thief, challenges Razia to kill her son to prove her impartiality, but she cannot. Khalid kills him and the crew rush to the ship. Sinbad returns and frees the Roc from Razia's chamber. Razia attacks him and his curse kicks in. Just as the curse is about to destroy him, the Roc swoops in and rescues him. It returns him to The Providence, leaving Razia to fight Khalid for control of the tribe. Sinbad is exhilarated by his narrow escape, and the gang recognise that he is their de facto leader now.