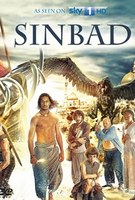 TV Info
---
Episode Premiere
June 08, 2013

Distributor
Syfy

Genre
Adventure, Drama

Show Period
2013 - 2013

Production Company
Impossible Pictures


Cast and Crew
---
Director
Andy Wilson
Screenwriter
Jack Lothian
Main Cast
Elliot Knight
Naveen Andrews as Lord Akbari
Dimitri Leonidas
Marama Corlett
Elliot Cowan
Estella Daniels
Orla Brady
Synopsis
---
On the streets of Basra, spirited street rat Sinbad fights Raees, the Emir's nephew. Hustler Sinbad feigns he's a bad fighter so his brother Jamil gets good odds on him winning from the bookmaker, then reveals he is a great fighter. When Raees draws a knife, Sinbad instinctively throws a killer punch at Raees, bringing him down. High from his win, Sinbad steals a suitcase from African traveller Zalelew and his beautiful daughter, Nala, but is disappointed it only contains a monkey head totem to ward off evil.
Sinbad and Jamil return home to their grandmother Safia and catatonic mother Zahirah, but the Emir's guards burst in and capture Jamil and Sinbad. Sinbad is shocked when Lord Akbari, Raees' father and the Emir's brother, visits the prison and tells him that Raees is dead - killed by Sinbad's hand. Akbari takes revenge for his son's death by taking Jamil's life. Heartbroken, Sinbad escapes and returns home, but Safia places a curse on him; until he atones for his sins he can't stay on dry land for more than 24 hours.
Tazeem, Sinbad's friend in the Basra guards, persuades Sinbad to jump on the first ship out of Basra. Akbari's mage, Taryn, uses magic to locate Sinbad at the docks, but Sinbad has already stowed away on The Providence. Passengers Zalelew and Nala recognise him as the man who robbed them and Sinbad is thrown in a cell. A terrifying storm ensues and magical creatures made of water - Shar Ma'aa- attack with ferocity. All on board die apart from Sinbad, Nala, Gunnar (an enigmatic Norse trader), Anwar (the ship's enthusiastic doctor), and the ship's eccentric Cook. When all seems calm they find a stowaway thief, Rina, drowning in the hold. Sinbad risks his life to save her, with the help of the others. Thus, Sinbad's motley crew is brought together.