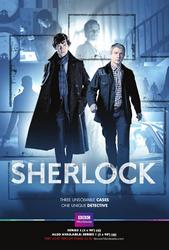 TV Info
---
Episode Premiere
October 24, 2010

Distributor
PBS, BBC

Genre
Drama, Adventure

Show Period
2010 - now

Production Company
Lincoln Square Productions


Cast and Crew
---
Director
Paul McGuigan
Screenwriter
Steven Moffat
Main Cast
Synopsis
---
"Nothing happens to me," Afghanistan war veteran Dr. John Watson tells his therapist. But that's before he moves into 221B Baker Street. In no time, the depressed doctor has joined his eccentric flat mate, Sherlock Holmes, in tackling a case of serial suicide.
Can suicide be a serial crime? It seem so, since it has already happened three times, with each victim disappearing under identical circumstance and later turning up dead with the same self-administered dose of poison. When a fourth victim is found, a woman dressed entirely in pink, Detective Inspector Lestrade gives up and calls his consulting detective: Sherlock.
With Watson lending his medical expertise, Sherlock uses his deductive powers to establish the pink lady's life history, based on clues such as the wear pattern on her wedding ring. Obviously murder, he concludes. And with that the game is on to find the killer, someone who can lurk unnoticed in the middle of a bustling city, snaring victims at will and convincing them to take their own lives.
Lestrade's staff warns Watson to avoid Sherlock, who they call "freak" and consider a psychopath ("I'm a high-functioning sociopath," Sherlock insists). But the doctor receives a more ominous signal from another source, a shadowy figure calling himself Sherlock's arch enemy, who attempts to entice Watson into turning against his new friend.
Meanwhile, the pink lady left an especially baffling clue: she scratched "Rache" into the floor where she died. The name Rachel? The German word for revenge? A coded message? To Sherlock the answer is elementary. Less clear is how the killer enticed his victims into self-destruction and whether the great detective will be lured to the same demise.