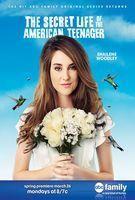 TV Info
---
Episode Premiere
May 20, 2013

Distributor
ABC Family

Genre
Drama

Show Period
2008 - 2013

Production Company
Brendavision!, Prodco, Inc.


Cast and Crew
---
Director
Gail Bradley
Screenwriter
Brenda Hampton, Elaine Arata
Main Cast
Additional Cast
Synopsis
---
Amy, Grace and Adrian all discuss their hesitance to get married. Meanwhile, Ricky starts calling George "Dad". Ricky promises they will find a way for Amy to go to school in New York. Ethan tells Margaret he broke up with Kathy and wants to date Layla, because Layla will have sex with him. Ethan says he's embarrassed to buy condoms, and Margaret tells him well he better not be too embarrassed to ask Layla's parents' permission to have sex with their daughter, unless he wants to be considered a sex offender if they get caught. Kathleen see's an empty condom wrapper stuck to Grace's skirt and realizes Grace is having sex with Jack again. Grace admits she doesn't want to marry Jack and Kathleen tells her she has to tell him before someone else does. Reverend Stone tells Jack he doesn't have to rush into marrying Grace, but Jack assures him that he wants to marry her. Didi (Jack's mom) is upset that Jack and Grace are sleeping together again because she thinks Grace will break Jack's heart, and she likes Madison better. Leo commends Ben for turning down Chloe's sexual advances and telling her to talk about it in her therapy session. Omar breaks up with Adrian and asks for his ring back because he doesn't want to be engaged and living in New York alone and he doesn't think Adrian wants to commit to him. Clementine stops by the butcher shop to clear the air with Ricky after her love letter confession. Leo tells Ricky he has a three-family home in New York above his butcher shop and he offers one of the apartments to Amy and Ricky if they want it. Alice is upset that Henry wants to take a year off before starting college and work at a hotel in the Philippines, but Ben realizes Henry has something else up his sleeve. Ben thinks he knows that Amy doesn't want to marry Ricky, which is why she's going to New York. Kathy tells Ethan to have sex with Layla, that she already has another "boyfriend", Brian. Ben admits to Alice that he hacked into Amy's computer and read her E-diary which said she secretly hopes she and Ben still have a chance to be together. At the bookstore, Adrian tells Jack and Ricky that she broke up with Omar and that she knows Grace and Amy are going to do the same with them. Ricky realizes that Adrian is just trying to hurt them because she's been hurt by Omar. Ricky then tells Clementine that he's flattered by her letter but no matter what happens with Amy he is never going to be with Clementine. Adrian overhears and tells Clementine that if Amy breaks up with Ricky he's going to come running to her. Jack asks George for advice about Grace, but George refuses to get in the middle of it. Jack confronts Grace about what Adrian said and Grace says it's a ridiculous lie and that Adrian is still in love with Grace so she's trying to break them up. Grace texts Amy to warn her. Ricky doesn't tell Amy about his conversation with Adrian and instead tells her about Leo's apartment offer. Amy says she doesn't want to live in the same building as Ben, but Ricky says he trusts her, after all it's a great opportunity and they are getting married.