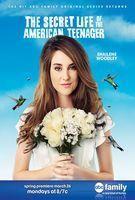 TV Info
---
Episode Premiere
March 15, 2010

Distributor
ABC Family

Genre
Drama

Show Period
2008 - 2013

Production Company
Brendavision!, Prodco, Inc.


Cast and Crew
---
Director
Keith Truesdell
Screenwriter
Brenda Hampton, Jeffrey Rodgers
Main Cast
Synopsis
---
Ricky's invited George over to his baby-proofed apartment -- just to show him it's a safe place for John to spend weekends. George says that, as long as Amy doesn't want Ricky to keep John on weekends, it's a no-go. But he promises to talk her about it, warning Ricky this could become a lifelong war.
Adrian's mad at Ricky, so she's trying to get on Amy's side ... if Amy can just overlook the whole sex-with-Ben thing. Amy isn't sure she can, but she does accept Adrian's help to get more of their friends "on her side."
Speaking of friends, Ben's friend Grace wants to make out. Ever since that talk with her new stepdad, she's all about having fun. In fact, she and Ben have so much fun the first time they hook up, it leads to a second time.
Ricky's foster parents meet Anne and George at a restaurant to discuss John. Anne says Amy gets to decide, but that's not what Dr. Shakur and Margaret want to hear. Meanwhile, Ricky's asked Ruben for help getting a mediator, but Ruben makes him talk to Amy first. So he does, but she refuses to compromise. And she knows him the video testimonial all her/ their friends made to support her. Then she admits her real motive: She wants John to love her... and not Ricky. Ricky's already mad about the videos, but when he hears her reason, he just walks. And then he gets everyone to make videos on his behalf too.
So the mediator sees all the videos, plus both parents' school records. But before he can announce his descision, Amy jumps in and says Ricky was right all along: He should have John on weekends. Well, good, because that was the mediator's decision anyway. The new plan starts next weekend, just in time for John's first birthday. So now mom and dad have to figure out the party plans -- together. And though Amy looks like she might cry, she agrees to plan the party with Ricky.
Other couples have big plans for next weekend too. Leo and Betty are getting married. George wants to run off with Anne and get married that weekend, and he gives her one week to decide. Madison and Lauren are planning to have sex for the first time with their boyfriends, Jack and Jesse, right after the weeding.
And even Ashley's thinking about having sex with Grant, her new boyfriend. Turns out he's not a virgin. But when she asks Adrian how to get birth control pills, Adrian realizes her period is late. Um, what? Seems she just switched pills, so they may not have been working yet. And a condom broke recently... the night of the mother/daughter dance. The night she had sex... with Ben. Oh, girlfriend -- what have you done?