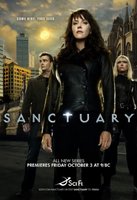 TV Info
---
Episode Premiere
May 23, 2011

Distributor
Syfy

Genre
Sci-Fi, Crime, Mystery

Show Period
2008 - 2012

Production Company
Sanctuary 1 Productions


Cast and Crew
---
Director
Martin Wood
Screenwriter
Damian Kindler
Main Cast
Synopsis
---
You don't live to be 160 years old without getting tangled up in a few historic events. In the 1940s, James Watson designed a device that could control weather. Somehow, the plans got into the hands of the Nazis, and Helen, Watson and Griffin (aka The Invisible Man) were charged with destroying the machine. They rendezvous with a woman in the French resistance, but on reaching the checkpoint, they are attacked by German forces. Helen and Griffin manage to escape, but Watson is hit, and forced into custody by none other than John Druitt - Helen's former lover.
Tesla, under close surveillance at Allied headquarters, receives a panicked and fragmented message about Druitt, but it won't sway Eisenhower from delaying D-Day. Tesla pleads to see him, but the young officer overseeing him refuses.
Griffin, who finds himself in a troop of US soldiers - their CO being one Jack Zimmerman - convinces them to help him break Watson out of the Nazi stronghold. But when Griffin finds Watson, Helen is there, as well, having been nabbed in her own attempt to free Watson. But they gained some valuable information: Druitt was working with the Nazis in order to take them apart piece by piece. And, more importantly, the weather machine is just a cover for the real weapon: A Tunisian Fire Elemental, an Abnormal powerful enough to destroy the entire population of the planet if provoked. The weather machine is the only thing controlling the Elemental, keeping it fully surrounded by water.
The team locates the stronghold where the weather machine and Elemental are being kept. For a moment, they're not sure if they'll be able to penetrate the fortress, but just as they fear their plan may go awry, reinforcements swing in to save the day. Zimmerman, inspired by the strange events he's seen, diverts his company's mission and firebombs the tanks protecting the weather machine. Tesla, piecing together that his military detail has been working for the Nazis and distorting information, finally gets through to Eisenhower and fortifies Helen's backup. Druitt rushes the German CO and wrings his evil neck, leaving Helen and Watson to deal with the Elemental.
Watson maneuvers the machine to provoke the Elemental into cracking the ground beneath it, literally burying itself alive. They return to the battle scene, where victory has been secured by the Allies. But no battle is without its casualties - Zimmerman took a fatal hit. Helen makes a promise to his next in command that his officer's sacrifice will not be forgotten.