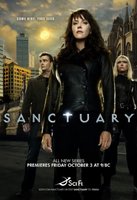 TV Info
---
Episode Premiere
May 16, 2011

Distributor
Syfy

Genre
Sci-Fi, Crime, Mystery

Show Period
2008 - 2012

Production Company
Sanctuary 1 Productions


Cast and Crew
---
Director
Lee Wilson
Screenwriter
Gillian Hovarth
Main Cast
Synopsis
---
By way of mending fences, Helen takes Tesla to one of the last known strongholds of the Praxians, the race that founded Hollow Earth. But once inside, they discover that it's not a stronghold to keep Praxians safe, but to keep vampires safe from Praxians. In the last great war, before the Praxians retreated under the Earth's surface and built their empire, they had all but vanquished vampires. The vampire queen preserved herself and awaited revival by her court. Nicola and Helen have just stumbled into her preservation chamber.
Nicola realizes too late that the blood guard he's wearing marks him as a non-vampire, and an unseen weapon shoots a hole right through him. His vampiric healing properties have left him, and Helen scrambles to find a way to save his life. The only option is to try to extract some blood from the preserved queen. As Magnus injects it into Nicola's vein, he revives and heals instantly, but Helen has also awoken the queen, Afina, and Helen and Nicola may be in grave danger.
Back at the Sanctuary, Kate gets a tip from one of her old smuggling contacts that a shipment of Abnormals is in, at a great price. Plagued by guilt from her past, she organizes a rush on the smuggling operation to nab the bad guys, with Biggie and Will backing her up. She delivers a warning to their leader, and the Sanctuary team rescues the Abnormals - but Kate still won't be able to rest easy.
Magnus and Nicola realize too late that Afina is bent on retaining her position of world domination. Afina shoves Nicola down a mineshaft and whisks Helen away to a lair even deeper underground, where her court - soldiers who will help her enslave all of humanity - lie in stasis. Helen realizes that Afina plans to use her as an ever-replenishing blood donor for her soldiers, but sees no way to defeat the queen - that is, until Nicola arrives and delivers a royal beating to the despot.
But Afina fights back and nearly kills Nicola. Helen manages to break up the fight by offering Afina passage to Hollow Earth, to seek revenge on the Praxians who defeated her race. She produces the key to the holographic map and gives Afina the password on the condition that she release Helen and Nicola. Afina agrees, and the two dash for the surface, knowing that the holographic map will detect Afina's vampire blood and set off a weapon powerful enough to destroy Afina and her soldiers forever. They reach solid ground just as the lair sinks into a pile of rubble beneath them, burying the vampire race for good.