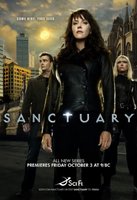 TV Info
---
Episode Premiere
April 15, 2011

Distributor
Syfy

Genre
Sci-Fi, Crime, Mystery

Show Period
2008 - 2012

Production Company
Sanctuary 1 Productions


Cast and Crew
---
Director
Martin Wood
Screenwriter
Damian Kindler
Main Cast
Synopsis
---
In Praxis, the mysterious, underground counterpart to Earth, Helen has been revived from death by the stony leader, Ranna. With the bodies of Will, Henry and Kate hanging lifeless around her, Helen explains to Ranna that she's simply there looking for her father, and that Adam Worth, their mutual enemy, is held captive in the Sanctuary. Ranna backs down when she realizes that only Helen can save Praxis, which is being rattled again and again by earthquakes caused by an ailing superabnormal that only Helen can cure.
Ranna gives Helen information on Kanaan, the superabnormal in question. If he is not saved, the tremors will release enough magma to destroy everything in Praxis, as well as on Earth. Helen can cure Kanaan's renal failure, but first she demands that her team be given the same miraculous rebirth she received. Helen brings them up to speed and they get to work. Henry devises a protective suit to protect Helen, Ranna and Kate against the blazing temperatures in Kanaan's hideout, and the women head to his lair to save him.
But they never could've expected what they find there: Gregory Magnus. He has also been trying to help Kanaan and, after a brief reunion, tells Helen that renal failure is not the issue. Helen realizes that the abnormal insects that live near Kanaan's lair have been disrupted by the tremors, and their queen would've found a host in that scenario. The queen must have implanted herself in Kanaan, making him too sick to keep the tremors still. Helen and Ranna rappel into the lava pit where Kanaan is resting and excavate the queen, at much peril to their own lives.
But it seems there is yet another battle to fight, as Adam Worth has been caught on camera stealing some of the most dangerous weapons Praxis has. They must find him and stop him, which won't be easy, considering he has a team of sense-masking abnormals as his henchmen. Will and Henry analyze Praxis's file on Adam, and discover that he has been toying with a device called the calorem, which helped him cause a rift in time. Its power is immeasurable and completely unstable, so if Adam is able to complete his plan, he'll be unstoppable, and could bring utter ruin to both Praxis and the surface.
Adam continually outruns their pursuits, but eventually they find his transport pod. Weapons drawn, they prepare for the worst, but when the doors open, they see the simple message, "All debts paid in full. –John" It seems Druitt, enraged that Adam risked Helen's life and work, sought out and tasted revenge.
Although Ranna is grateful for Helen's work, she pleads with her not to seek contact, saying that the ambassador - Gregory Magnus - will contact her at the right time, and they can learn from each other once more. Helen bids a sad farewell to her father, who has chosen to stay behind and study, and they both hope that they will see each other soon.