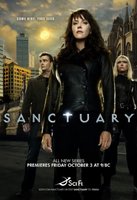 TV Info
---
Episode Premiere
October 29, 2010

Distributor
Syfy

Genre
Sci-Fi, Crime, Mystery

Show Period
2008 - 2012

Production Company
Sanctuary 1 Productions


Cast and Crew
---
Director
Peter DeLuise
Screenwriter
James Thorpe
Main Cast
Synopsis
---
Magnus and the crew have infiltrated a bank in order to secure a redlined abnormal - a ferropodus egg that was mistaken for a work of art and placed in a safe deposit box in a small town in Washington state. But when Magnus reaches the box, she discovers the egg has hatched, and a slimy trail tells her that the abnormal has certainly found a host by now. She calls Kate and Will, standing by in the lobby, to tell them to quarantine the bank. Will is flummoxed, but Kate wastes no time in feigning a stickup.
But the race against the clock starts now, as one of the tellers has alerted the police, and if Magnus can't find the host in time, the ferropodus will explode from its host and go on a flesh-eating spree like nothing that's been seen before. Kate uses her experience from her former life as a criminal to play the cat and mouse game with the cops to buy time while Magnus attends to one of the hostages who's exhibiting symptoms that could mark her as the host. The only way to be sure is to give her a retinal scan, so Will and Kate, with Henry's offsite coaching, rig something together with a cell phone and a counterfeit bill scanner. But she's not infested with a dangerous abnormal - just pregnant. They go on to scan the rest of the hostages' eyes and send the data back to Henry in his nearby mobile lab for analysis.
The cops are getting pushier, and the FBI has arrived on the scene, but if that weren't enough pressure, Will soon learns that there's a rival abnormal hunter in their midst. As the retinal test results trickle in from Henry, the team makes a backup plan for escape, and Magnus instructs Henry on how to concoct a mild toxin that will slow the gestation of the ferropodus - and the attendant explosion of the host.
Henry gets the test results for four of the hostages, and they're released, leaving Magnus with a longtime bank teller and a young customer. As Kate ushers the cleared hostages out, the customer grabs her gun and presses it to the teller's neck, revealing himself as the competition. He coerces Magnus and her team into the vault, where he'll leave the teller to explode, whence the ferropodus will devour the Sanctuary team and fall into hibernation until its next feeding cycle - the perfect time to be swept away and traded for bounty. But he didn't count on the secret weapon - Henry - smashing through the retaining wall of the vault with the retarding toxin, shuttling his team to safety, and locking the door behind him. The bounty hunter then becomes the bounty - the cops drop in and lock him up while Helen and her gang steward the ferropodus to safety.