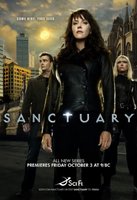 TV Info
---
Episode Premiere
October 15, 2010

Distributor
Syfy

Genre
Sci-Fi, Crime, Mystery

Show Period
2008 - 2012

Production Company
Sanctuary 1 Productions


Cast and Crew
---
Director
Martin Wood
Screenwriter
Alan McCullough
Main Cast
Synopsis
---
With Magnus recently deposed, Wexler has taken aggressive action against Big Bertha - who responds by sending a massive shockwave through the ocean, and a tidal wave is headed straight for the coasts of India and Pakistan. Magnus tries to get him to back down, and when he refuses, Magnus makes a calculated provocation, and Kali releases a wave of electromagnetic energy that knocks out Wexler's weapons and operating systems. Wexler orders Henry to repair them, which he does, but with a hidden agenda.
Will, having been deserted by the Makri, is walking dead. As he is rushed away for emergency medical care, the tidal wave approaches, and Kate prepares the coastal communities as best she can for the first hit of devastation. When revived, Will tries to rush to Kali again, to attempt to stop the destruction, but he is too weak.
Meanwhile, Magnus's helicopter has crashed into the ocean, and she is dragged aboard Edward Forsythe's ship, where she demands that he contact Kali and stop the devastation. Forsythe, having also been deserted by the Makri, is similarly doomed - and unable to help. But, he does have someone who may be able to help: the religious leader in care of the Makri for decades. She tells Magnus that the only way to contact Kali now is to meet her at the gates of mortality: Will must die in order to save thousands of lives. They devise a plan to put Will into cardiac arrest, and bring him back before his life expires completely, and Magnus contacts Wexler to plead with him to back down. Henry joins the cause, but Wexler refuses.
Wexler has discovered Henry's reticence to help, and locks him in a jail cell. But Henry smuggles enough transmitting equipment to be able to send a message to Magnus containing Bertha's coordinates, and she and Forsythe make tracks for the giant spider. Her plan is soon discovered by Wexler, and he pursues and demands she cease.
In the midst of this mortal coil, Will has reached the temple of the gods in the afterlife, and persuaded Kali to spare the humans in the path of the tsunami. She activates a counter-tide which soothes the speed of the wave, but Wexler is again bearing down, and Magnus must stop him from provoking her once again. Wexler warns her that if she does not back down, he will fire on her ship.
Forsythe, transformed by the experience of working with Magnus, and counting his numbered hours, volunteers to act as a decoy as Magnus and the rest of the crew slip away. Wexler fires on Forsythe, but Magnus is steps away, and launches a rocket that destroys Wexler's systems a second time. Infuriated, Wexler fires blindly, hitting Bertha. In the temple of the gods, Kali collapses, leaving a second tsunami heading for land. Will manages to convince Kali's cohort to revive her, and as they do, they send Will back to the land of the living, and further use their mysterious powers to stop the final waves. Lives are saved and balance is restored to the Sanctuary, thanks to powers beyond the mortals' understanding.