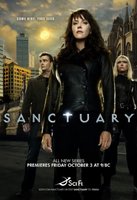 TV Info
---
Episode Premiere
January 08, 2010

Distributor
Syfy

Genre
Sci-Fi, Crime, Mystery

Show Period
2008 - 2012

Production Company
Sanctuary 1 Productions


Cast and Crew
---
Director
Peter DeLuise
Screenwriter
Damian Kindler, James Thorpe
Main Cast
Synopsis
---
Passengers and crew of a sinking ship off the coast of South Africa are rescued by Magnus and her team, and teleported back to the Sanctuary for safety and medical treatment. But when one of the peaceful refugees is brutally murdered, all eyes turn to Druitt.
Magnus confronts Druitt, knowing very well that something has been awakened in him that is driving him to act on his murderous instincts. But he is one step ahead of her and ready for a fight. In a split second, Druitt takes off down the hallway with Magnus in swift pursuit. A battle of wits and strength leaves them both with injuries. But ultimately, Magnus, with Kate's help, overpowers Druitt and uses her stun gun to stop him in his tracks.
Henry, meanwhile, is working on stabilizing the power systems throughout the Sanctuary after they experience electrical fluctuations and surges. Not one to lose a battle with technology, he soon has all main systems back online. Henry and Will get back to work attending to patients. But as Will leaves the operating room, the door suddenly slams shut behind him, trapping him between the O.R. and the medical level and leaving Henry locked in separately behind him.
At the same time, Kate and Bigfoot, who are en route to check on the Abnormal containment area, are jolted to a stop in the elevator, trapped between floors.
Magnus has secured Druitt in a containment cell where he recovers, handcuffed, and still weak from his ordeal. Just as the others experienced, the doors suddenly slam shut, locking them in the cell together and trapping Magnus alone with Druitt - still grappling with his urge to kill.
Cut off from each other and with no power, Henry frantically tries to reboot the computer system and figure out what has caused the Sanctuary itself to turn into a self-aware, hostile entity.