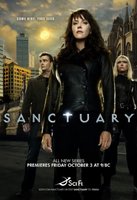 TV Info
---
Episode Premiere
November 13, 2009

Distributor
Syfy

Genre
Sci-Fi, Crime, Mystery

Show Period
2008 - 2012

Production Company
Sanctuary 1 Productions


Cast and Crew
---
Director
S. A. Adelson
Screenwriter
Sara B. Cooper
Main Cast
Synopsis
---
Henry is working on the Sanctuary's secure network when he gets a call from Rachel, a Sanctuary scientist who has been working on domesticating Jack, a lizard-like Abnormal. Suddenly, he hears her being attacked over the phone. The Sanctuary team arrives on the scene quickly, to find Rachel grievously wounded and Jack on the run. Fortunately, Kate and Will are able to subdue the creature while Henry takes a holographic scan of the "crime scene" and Bigfoot takes Rachel for medical care.
Back at the Sanctuary, Dr. Magnus fights to save Rachel's life. Jack's species releases spores that are fatal to an infected organism, and Rachel is heavily infected. Meanwhile, Henry, Will and Kate use the holographic scan to set up a model of the lab where the incident took place and attempt to understand why Jack would have attacked. Henry explains that Rachel has been helping him understand his Abnormal nature, and that her husband, Gerald, is like a brother to him. Those ties get tested when Gerald arrives, notably upset about the status of his wife.
The investigation continues. Attempts to communicate with Jack through the sign language he was being taught by Racel prove fruitless, as he continually repeats the sign for food. Rachel's condition takes a turn for the worse, and Gerald's emotional state continues to deteriorate, causing him to lash out at Henry and attempt an attack on Jack. Kate and Will discover that, at the time she was attacked, Rachel was attempting to get a syringe and treat Jack for a fungus that causes his species to experience an adrenal spike. The question of how he could be exposed to the fungus remains unanswered, as only Rachel, Henry and Gerald had access to Jack.
Dr. Magnus decides the only way to save Rachel's life is to treat her with an anti-spore element that is toxic to humans. The treatment works - the spores die - but it causes Rachel to flatline, and only timely treatment by Bigfoot keeps her from dying. Later, Henry enters, overcome with guilt, thinking Rachel's condition is his fault. But Gerald snaps, and reveals his jealousy of Henry. It was Gerald who fed Jack the tainted food, because it was Henry who was supposed to be feeding the Abnormal, not Rachel. Gerald then attacks Henry with a knife, attempting to get him to unleash the beast inside and kill Gerald.
Will, proving himself capable of controlling his animal urges, resists, and when Rachel flatlines again, the distraction allows Bigfoot and Magnus to disarm Gerald. Fortunately, Rachel is saved, and with the mystery solved, left to contemplate the state of her marriage and her feelings toward Henry.