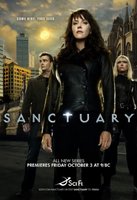 TV Info
---
Episode Premiere
October 30, 2009

Distributor
Syfy

Genre
Sci-Fi, Crime, Mystery

Show Period
2008 - 2012

Production Company
Sanctuary 1 Productions


Cast and Crew
---
Director
Martin Wood
Screenwriter
Alan McCullough
Main Cast
Synopsis
---
An unlikely superhero with unprecedented strength and the amazing ability to fly is thwarting crime - and Sanctuary missions - throughout the city, sparking an investigation into his identity by the Sanctuary team. Magnus and Will are able to trap this costumed man by creating a phony emergency, which he responds to with vigor. The city's newest hero, who calls himself "The Adjuster" is quickly disabled and brought back to the Sanctuary for study.
Convinced that Magnus and Will are actually super-villains who have captured him in order to run experiments on him, The Adjuster - aka Walter (CHRISTOPHER GAUTHIER) - is less than cooperative. When a blood test reveals he doesn't possess the DNA of an Abnormal, Magnus and Will are baffled as to the origins of his super powers. Still convinced he's in the hands of the super-enemy, Walter manages to escape before the Sanctuary team can confirm the results of any more tests.
While Walter's efforts to fight crime are commendable, if rather fumbling in nature, he continues to risk the work of the Sanctuary and innocent lives (including his own). But when further test results come back, the team learns that Walter's health is actually rapidly failing. In order for him to stay alive, they need to find a way to lure him back to the Sanctuary for treatment.
Getting him back to the Sanctuary is not the problem. Helping him accept that he will have to go back to his day job as an insurance adjuster and give up his life as a superhero is another matter altogether. Despite his rapidly declining health, Walter refuses to give up his dream.
Elsewhere, Magnus, Will, and Declan (ROBERT LAWRENSON) investigate the discovery of an unusual eggshell remnant at a construction site; which leads to a search to locate a dangerous creature that has hatched and is now loose on the city...and quickly growing in size.
Elsewhere, Kate gets an unexpected call from her brother, who finds himself in deep with an organized crime boss. In order to save him, she must risk the security of the Sanctuary, and a newfound trust she is beginning to develop with the team.