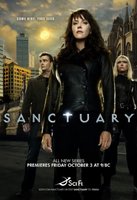 TV Info
---
Episode Premiere
December 19, 2008

Distributor
Syfy

Genre
Sci-Fi, Crime, Mystery

Show Period
2008 - 2012

Production Company
Sanctuary 1 Productions


Cast and Crew
---
Director
S.A. Adelson
Screenwriter
Damian Kindler
Main Cast
Additional Cast
Rekha Sharma
Matty Finochio
John Tench
Synopsis
---
Hungry for their first exclusive on-air story, local news reporter Amy Saunders and camera operator Zach Spencer arrive at a shipping warehouse where three people have been brutally attacked and killed by a mysterious creature. While the police and port authorities work out how to best handle the situation, Amy and Zach slip inside the evacuated building, determined to expose whoever or whatever, is wreaking havoc.
Unfortunately, they have no idea what they're really up against. With the camera rolling, it doesn't take long before the inexperienced Amy and Zach find themselves face to face with the horrific and powerful creature. Magnus Will, Ashley and Henry gain access to the warehouse just in time to intercept the creature's imminent attack on Amy and Zach.
Grateful for the team's life-saving rescue, Amy refuses to leave, insisting that she and Zach are staying to shoot more footage of the creature - her ticket to network respect and an ambitious promotion. Although the team is more than wary about having their work captured on video, Magnus agrees nonetheless to let them stay in order to have the creature documented for future research.
On his first real field mission with the team, Henry is keen to impress and diligently sets up a "shock web" as a first attempt to impede the creature. The electrical force will stun the deadly abnormal long enough to get it back to the Sanctuary alive. But remarkably, 100,000 volts proves to be no match for the creature who, although now really ticked off, survives the electrifying burst of energy.
They have limited time before the police send in a SWAT team who will undoubtedly thwart their chances of saving the creature. Realizing they cannot take it by force, they decide their best chance is to outwit it. But they find out that the creature possesses more than just brawn when it cuts the power to the building leaving the team literally in the dark.
Luckily, Will and Ashley uncover a shipping container that houses precious cargo. Then Magnus sees the contents and enacts a plan that just might distract and slow the creature.
While Zach films the whole operation, Amy realizes that her big scoop is less about the creature and more about the secretive monster hunters of the Sanctuary. But if her story hits the evening news, the Sanctuary and everything Magnus has worked towards, will be threatened.