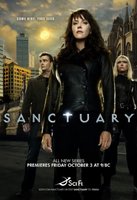 TV Info
---
Episode Premiere
December 12, 2008

Distributor
Syfy

Genre
Sci-Fi, Crime, Mystery

Show Period
2008 - 2012

Production Company
Sanctuary 1 Productions


Cast and Crew
---
Director
Brenton Spencer
Screenwriter
Sam Egan, Peter Mohan
Main Cast
Additional Cast
Daryl Shuttleworth
Lynda Boyd
Byron Lawson
Synopsis
---
Will receives a call from the wife of a college friend who needs his help finding her missing husband, Danny. Enlisting Magnus and Ashley for help, Will and the team follow a lead to an abandoned factory hoping to find a clue to Danny's whereabouts.
The warehouse is void of any activity, but they all sense that something suspicious has been taking place. Dried blood on the floor and evidence of epinephrine lead them to suspect that the space serves as an underground training facility or fight ring. But before they can gather more information, they hear a clatter from a shadowy corner of the room.
Pulling her gun, Magnus approaches the sound and is astonished to find herself looking face to face at a man she is convinced is none other than her father and mentor Gregory; although the roguish man, who calls himself Charlie, vehemently disagrees . Reluctantly, he accompanies the team back to the Sanctuary where Magnus continues to press him for information about the fight ring and who might be behind it. All the while, she tries to fathom how this man could possibly look so much like her deceased father, yet behave so differently than the medical pioneer she loved and revered.
Magnus examines the blood samples retrieved from the warehouse and concludes that abnormals are definitely connected to the case. She also confirms that Will's friend Danny has been genetically altered and is now among the abnormals whose blood was shed in brutal hand-to-hand combat. The team agrees that finding the location of the next fight is key to finding Danny.
Later, Will receives a secretive phone call with news that the site of the next fight has been determined, but his informant won't reveal the location over the phone. Will agrees to meet in person, however he quickly regrets this decision. While waiting to meet the informant he is shoved into a van, drugged and whisked away.
Bleary, he awakens long enough to become alarmingly aware that this is no ordinary fight club and realizes he is being groomed to go into the ring himself. What he doesn't know, is that his captors intend on making sure he is well prepared for the fight of his life.