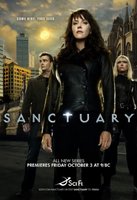 TV Info
---
Episode Premiere
November 21, 2008

Distributor
Syfy

Genre
Sci-Fi, Crime, Mystery

Show Period
2008 - 2012

Production Company
Sanctuary 1 Productions


Cast and Crew
---
Director
Brenton Spencer
Screenwriter
Sam Egan
Main Cast
Additional Cast
Synopsis
---
Will receives a call from Joe Cavanaugh a former colleague in the police force, who grudgingly concedes that his suspicious suicide case desperately needs Will's rare expertise in the unusual.
The case revolves around Edward, a teenage savant with a remarkable ability to draw photo-realistic images summoned from memory at amazing speed - without even so much as a glance at the page. When Edward's father is found dead in their home, the explanation is suicide. But when Will and Magnus investigate the scene, Will's keen profiling insight tells him that there is much more to the story than is being revealed. He's convinced Edward's vivid and detailed drawings will somehow expose what really happened.
Edward's mother Ruth entrusts her son to the care of Magnus and Will in the Sanctuary. While the boy is there, Will attempts to reach Edward and understand what lies behind his drawings, most of which depict terrifying creatures and monsters. Will questions if Edward is really seeing what others cannot, or, if the monsters simply represent the teen's fear of his allegedly abusive father.
As they investigate further, evidence surfaces to suggest that Edward may not be the only abnormal in the family. With his runaway brother missing and his mother clearly protecting someone, Will and Magnus become convinced that Edward is terrified by what he has seen both at home and in his mind. It comes down to Will to find answers through these extraordinary drawings in hopes that they will hold the key to solving the case, and finally give Edward the peace that has eluded him. But it is Magnus's audacious plan to turn the painstakingly rendered drawings into what amounts to an animated recreation of the moment of death.
Meanwhile, Henry must come to terms with the fact that his transformations are becoming more frequent and increasingly out of control. Magnus offers a surgical solution that may slow or possibly stop his natural evolution, but the consequences are unpredictable and could be extremely dangerous. Now he has no choice but to examine who he is and decide what he wants to be - quite literally.
In the midst of all this Ashley is still reeling over the shocking revelation that the villainous John Druitt is really her father. She must now begin to understand why and how Magnus withheld this vital information from her.