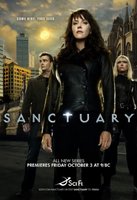 TV Info
---
Episode Premiere
October 10, 2008

Distributor
Syfy

Genre
Sci-Fi, Crime, Mystery

Show Period
2008 - 2012

Production Company
Sanctuary 1 Productions


Cast and Crew
---
Director
Martin Wood
Screenwriter
Damian Kindler, Martin Wood
Main Cast
Additional Cast
R. Nelson Brown
Peter Bryant
Kandyse McClure
Synopsis
---
Still overwhelmed by all there is to discover about the Sanctuary, Will Zimmerman, joins Magnus and Ashley on a mission to retrieve an elixir that might be capable of prolonging life.
Aware that the serum will be heavily guarded, the team comes prepared for a fight. But they are not prepared for what they find instead of vials and containers. Inside the crypt that they expected would house the elixir, they find three coffins each containing a woman lying in an unusual green liquid. Although unconscious, all three women are very much alive.
With the women now resting and monitored back at the Sanctuary, Magnus begins researching their possible history and origins. At her mother's request, Ashley does some sleuthing with her contacts in Old City.
As the women awake, Will begins psychiatric examinations to determine who they are and how they came to be locked in the crypt. Remarkably, they remember, or reveal, very little of their lives before arriving at the Sanctuary, but make unusual references to historic events that go back more than a thousand years. Will is convinced they are suffering from delusion, sharing common traits found in kidnapping victims. He shares his diagnosis and concern with Magnus.
Magnus's research turns up another theory, however. She tells Will of an ancient legend dating back to medieval times involving three women with supernatural abilities. According to the legend, their powers were used to destroy their enemies en masse.
Still resistant to believing that he has been analyzing three mythical witches, Will points out that the women have shown no sign of abnormal behavior or aggression. His view quickly changes when strange and powerful vibrations start coming from the main lab where the women have been resting; the force bringing Will and Bigfoot to their knees and knocking out a substantial portion of the facility's diagnostics systems.
Meanwhile, Ashley's intel in Old City offers up an even more urgent warning that the Sanctuary's newest residents are sorely missed by a powerful cabal, a covert group that will stop at nothing to reclaim what it believes to be theirs.
Still unclear as to what, or who, they have in refuge, the team prepares for an all-out battle as the cabal's trackers descend upon the Sanctuary.