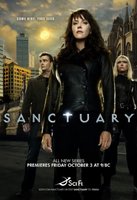 TV Info
---
Episode Premiere
October 03, 2008

Distributor
Syfy

Genre
Sci-Fi, Crime, Mystery

Show Period
2008 - 2012

Production Company
Sanctuary 1 Productions


Cast and Crew
---
Director
Martin Wood
Screenwriter
Damian Kindler, Sam Egan
Main Cast
Additional Cast
Kirsten Robek
Darien Provost
Cainan Wiebe
Synopsis
---
Once inside, Magnus explains that the world is full of nature's mistakes and triumphs and has spectacular proof of the strange and often terrifying creatures that secretly populate our world. She takes a mystified Will on a tour of the Sanctuary where he can see for himself that "abnormals" do exist outside of his imagination.
She explains that the Sanctuary is a place for all of nature's creations - it is indeed a "Sanctuary for all" - where abnormals are respected and helped and where she can delve into the rich evolution and diversity of life.
While he wraps his head around this astonishing news, Magnus receives a call from her daughter Ashley who informs her she's hot on the trail of the boy and needs backup in the subway tunnels.
Deep underground, Magnus, Will and Ashley find the boy, who reveals his secret in a rather alarming way. Clearly skilled at the chase, Magnus and Ashley manage to bring the boy back to the Sanctuary securely, where they can investigate further.
Will is put to the test right away when Magnus asks him to talk to the boy in spite of the danger he poses. Will uses his insightful psychiatric skills and personal understanding to connect with the young patient, impressing Magnus who urges him to join her team.
The events of the evening now well in hand, Ashley goes out against her mother's wishes. Confronted for the first time by the sinister John Druitt, who possesses a force she has never encountered, a spectacular fight ensues. In spite of her impressive skill and strength, Ashley may have met her match against the mysterious Druitt who has a hidden agenda and baffling knowledge of Magnus.
At the Sanctuary, Will must decide if he will take the leap of faith and join Magnus in this seemingly inexplicable new world, knowing that in doing so, he may find answers to questions he has tried to bury and that have tormented him since he was a child.
Magnus must now confront her own past and consider a dangerous deal with Druitt - one that could unleash his power in inconceivable ways - in order to save her daughter's life.