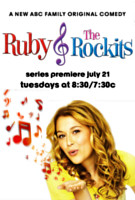 TV Info
---
Episode Premiere
August 18, 2009

Distributor
ABC Family

Genre
Comedy

Show Period
2009 - 2009

Production Company
ABC Studios


Synopsis
---
Ruby and Jordan find a bassist for their band: Nils, who's super-talented and totally hot. Ruby loves him. Jordan and Patrick? Not so much.
Patrick's just being an overprotective uncle, but Jordan's jealous of Nil's talent and hotness, not to mention the way Ruby looks at him. Jordan threatens to break up the band but comes to his senses. Patrick, however, is not about to back down from his no-dating-Nils rule. Especially after he and Audie find out that Nils is 19 and way too old for Ruby. Plus, one look at the sexy outfit Ruby puts on to go out with Nils, and Patrick may never let Ruby date anybody. Ever.
Ruby doesn't appreciate being told who she can hang out with, but Patrick and Audie tell her that she has to trust them. She sits in her room and compose an angst-ridden song... and suddenly hears a knock on her window. It's David, who's come to break her out so she can have date with Nils.
Which is totally great. For, like, the first five minutes. Then Jordan shows up. But that's not what REALLY puts a damper on things. This does: Nils is gay, and he just wants to be friends with Ruby.
Ruby learns the hard way that love can be fleeting -- but on the bright side, thay have a great bassist in Nils, and their band totally rocks.