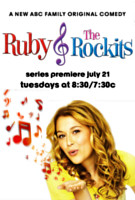 TV Info
---
Episode Premiere
August 04, 2009

Distributor
ABC Family

Genre
Comedy

Show Period
2009 - 2009

Production Company
ABC Studios


Synopsis
---
Patrick brings home the new GM Equinox, a state-of-the-art- hydrogen fuel cell car, and tells everyone it's off-limits. That night, while Patrick and Audie are at the opera, Ruby gets an SOS from Jordan. He's supposed to be at a study group, but he's actually at a kegger -- and his designated driver's drunk. Jordan's a little tipsy too, and he tells Ruby that if his parents find out, he'll be sent away to military school. Or worse.
Ruby has to rescue Jordan, and there's only one way she can do it -- by driving Patrick brand-new super-car. She and Ben pick up Jordan and swear no one will tell Patrick or Audie what happened.
Unfortunately, Patrick figures out pretty quickly that someone drove the car. He assumes it was David, and the kids don't do anything to change that notion. When Ruby asks David to cover for them, he even agrees -- but later the whole Gallagher family watches him on a TV talk show, bragging about how his daughter picked up her tipsy cousin from a kegger.
Oops!
Needless to say, Patrick and Audie are angry with Jordan for drinking and lying about where he was. They're also mad at Ruby. Not only does she not have a driver license, but as an under-aged driver she put her cousins and herself in A LOT of danger. Patrick and Audie ground Jordan for three weeks. And they ground Ruby for a week.
Ruby's shocked. She accepts responsibility but she explains that the only reason she did it was because she thought Jordan would be sent away if he got one more strike.
Patrick and Audie explain thay would never send any of them away. No matter what. Ruby's still kind of mad at Jordan. And she realizes she has a lot to learn about what it means to be part of a family.
But at least she'll be able to drive a really cool car -- WHEN she gets her driver license!