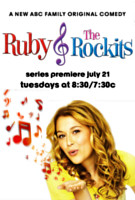 TV Info
---
Episode Premiere
July 28, 2009

Distributor
ABC Family

Genre
Comedy

Show Period
2009 - 2009

Production Company
ABC Studios


Synopsis
---
Ruby wakes up to a whole new day. A whole new life. AND a whole new family. She's getting in great, although she could use a teensy bit more space. It's just that the Gallaghers are so happy she's living with them, they can get a little clingy. But Ruby really doesn't mind. After all, it's a small price to pay for having a real family for the very first time.
School's a different matter. When it comes to making new friends, Ruby's got her work cut out for her -- so she signs up to organize a father-daughter dance. She's thrilled when David offer to host the event at his venue, The Totem Pole Lounge. But not so thrilled when Patrick and David compete over who should take her. As much as she loves Patrick, David's her dad, and she wants to go with him. Patrick and Audie agree to be chaperones, so everybody wins.
Until, that is, David doesn't show up at the event. The scene's all set -- complete with killer decorations, great music, and each girl getting a special dance with her dad. But where's David?
Patrick's not surprised by David's no-show. He says his brother's probably at the track or a casino. So Patrick steps in and dances a slow waltz with Ruby.
But then something amazing happens.
David shows up! With showgirls! He performs The Rockits' hit song "Chunnel of Love" with the help of his flashy backup singers. Seems David thinks he's supposed to dance FOR Ruby, not WITH Ruby. Once the misunderstanding's cleared up, David takes Ruby's hand and dances with her in his own special way. (Let's just say Ruby has to duck and cover.)
David may not be like the other dads, but he proves he's definitely got the most style.