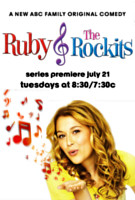 TV Info
---
Episode Premiere
July 21, 2009

Distributor
ABC Family

Genre
Comedy

Show Period
2009 - 2009

Production Company
ABC Studios


Cast and Crew
---
Director
Ted Wass
Main Cast
Synopsis
---
Ruby walks into the Totem Pole Lounge. looking for its star performer, David Gallagher -- former pop idol and member of '80 supergroup The Rockits. But she's not a fan. Well, at least she's not just ANY fan. Ruby's the teenage daughter David nevet knew he had.
When Ruby's mom passed away, she went to live with her grandparents, but they can no longer take care of her. So Ruby did a little detective work and found out that David's her dad. She packed her bags and bought a one-way ticket to Florida.
David's floored by the news, to stay the least, but he and Ruby hit it off, and he agress to let her stay. Problem is, his lifestyle as a performer isn't exactly well suited to raising a teenager. David turns to his brother, former bandmate and perfect suburbab dab Patrick, for help. Problem No.2: David and Patrick have a seriously rosky relationship.
Luckily, Patrick's wife, Audie, welcomes Ruby with open arms. Patrick's teenage sons, Jordan and Ben, think Ruby's pretty cool too.
That night, Patrick and Audie take Ruby, Jordan, and Ben to see David perform. In David's dressing room, Ruby tinkers with Jordan's sad ballad and turns it into a really cool song. (Seems that musical genius runs in the family.) While Ruby and JOrdan jam backstage, something incredible happens onstage: David and Patrick perform together for the first time in years.
Even bigger news? They REALLY enjoy it.
After the set, Patrick tells Ruby that, in just one day, she's brought him and his brother closer than they've been in a long time.
Looks like Ruby's here to stay.