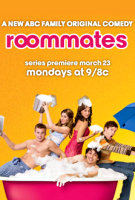 TV Info
---
Episode Premiere
May 04, 2009

Distributor
ABC Family

Genre
Comedy

Show Period
2009 - 2009


Cast and Crew
---
Director
Jack Kenny
Screenwriter
Chris Case
Main Cast
Synopsis
---
James and Hope are still sleeping together, and boy, does Hope know it's a bad idea. While they're in bed, Katie barges in, and Hope shoves James onto the floor to hide him. There's no way she's going to share this little secret with her roommates! But when Katie start telling her about how she went to David's yet couldn't bring herself to go upstairs to see him, Hope's barely listening... in fact, she's not really listening to musch this morning.
So OK, Katie and David definitely haven't slept together yet. But Mark doesn't know that! He's still torn between the old and the new... he made out with Katie, but nothing's happening, and he's calling his ex Jackie, who ran out on him the other night, but she's not calling him back, either. So he runs to Thorn for advice, and Thorn suggests he pursue Jackie precisely because he didn't pursue Katie. Hey, can't let two hot girls slip away, right?
Back at the apartment, Hope and James are sleeping together yet again when Katie flies into Hope's room to tell her she's going for it with David. James has to hide on the floor again... close call. Later, Mark'still at the apartment trying to get ahold of Jackie when James walks in and urges him to take action and go over to her place -- why not, since Katie's already gone to see David? Mark takes James' advice and rushes over to Jackie's.
So Katie's in the lobby of David's office, fully ready to start a relationship with him. And here comes David, stepping out of the elevator with... another woman! Who's all over him! Katie confronts David, and he says she just waited too long to make her move. (Even though it's been less than a week! Men.)
Meanwhile, Mark shows up at Jackie's and asks why she never returned his calls. She claims that the whole thing is "moving too fast"... so why do they have sex two minutes later? And get this: It's amazing. Yeah, well, too bad, because then Jackie admits she's engaged... and she's getting married tomorrow! Talk about bad timing.
Mark goes home and barges into the bathroom, where James is taking a shower. Hope's there too, taking a shower with him, but Mark doesn't know (only James sticks his head out). Mark starts going on to James about how Jackie's engaged, and then he storms out. Seconds later, Katie barges in thinking Hope's in the shower, and starts going on about how David was with another girl. But when Marks comes back in, thinking James is in there, James and Hope are forced to show their faces and reveal their secret relationship!
OK, so the Hope-James hookup may be the new of the century, but Katie still needs to know if Mark's the one for her. There's only one way to figure it out: Thorn. Luckily, Thorn's been burning a candle for Hope forever, so when she shows up at his apartment and flirts with him a little, Thorn cracks and admits that Mark is absolutely in love with Katie -- that's the whole reason he moved in!
An elated Hope runs back and reveals the news to Katie, who's determined to make her move on him. She finds him on the couch and asks if he'd like to go out for a drink and talk. It looks like the stars are finally aligned for their moment.
Except that, when they open the door to leave, Jackie shows up in her weeding gown and says she left her husband at the altar! What does this mean for the future of Mark and Katie?
Your call.