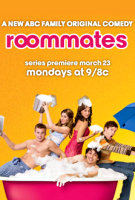 TV Info
---
Episode Premiere
May 04, 2009

Distributor
ABC Family

Genre
Comedy

Show Period
2009 - 2009


Synopsis
---
Katie's jerk of an ex, Ben, invites her to a Trash 'n' Treasures party. That's an event where people ask their unwanted exes to meet their friends, in the hopes of meeting somebody else's unwanted ex. Sound like a recipe for disaster, but all the roommates and Thorn are on board.
Mark goes over to Thorn's apartment to figure out who to invite, and they decide there's only one option: his ex-girlfriend Jackie. While they're dicussing the party, Alyssa, the neighbor who's totally obsessed with Mark, overhears and jumps in to be invited. But she's technically no one's sex. So she kisses Thorn and then "dumps" him in a second later. Instant ex. She'd do just about anything just to be in the same room as Mark, after all.
At the Trash 'n' Treasures party, Ben is getting lots of action, but Katie's not. That's cause Marks's ex Jackie turns out to be a total babe... and the two former lovebirds reunite and really hit it off. Meanwhile, James' ex Anna walks in, and she's a babe too (did you expect anything less?). But she's apparently joined Alcoholics Anonymous. As if that weren't enough of a downer for James, she also has to bring her six-year-old son, Graham, to the party after her brother can't watch him anymore. But James steps up and hangs out with both of them, the kid and all. Sweet, right?
Meanwhile, Katie's just watching Jackie and Mark flirt right in front of her. She's miffed that Jackie's not sticking to the Trash 'n' Treasures rules: You're not supposed to hit on your ex! And, OK, she's probably jealous. So why should Mark be having all the fun? Katie runs off to David Schick's place, only to get involved in a long conversation with the middle-aged doorman about which guy she should pick. Seems she just can't make up her mind.
When Mark sees Katie leave, he invites Jackie back to the apartment. The two look through pictures and reminisce about old times. Mark even pulls out his old mascot uniform from college, which is a horse's head... yes, it's about as weird as it sounds. They end up sharing a beautiful kiss, but then Jackie runs out the door immediately afterward... leaving Mark (and us) to wonder why.
Back at the party, Hope sees the ex she invited, "gay Russell," making out with a girl, She confronts him, and he's forced to admit he isn't gay after all... he just pretended to be so he could break up with her. A dejected Hope Returns to the apartment and finds James there. He didn't end up getting any action from Anna, mainly because her son pooped on the party... literally, making a big mess in the bathroom. Major turn-off.
Hope says the Trash 'n' Treasures party was a good idea in theory but a bad idea in hindsight. James says that's why he's never made a move on Hope or Katie, because just being in a room with an ex is awkward enough, let alone living with one. James claims that if he ever made a move on either of the girls, neither would get over him. Hopa gets offended, and the two start aguing. To shut him up, Hope goes in to kiss him. (she always does that!) But it doesn't stop there... the two end up sleeping together -- and, uh, it's amazing. So while they say it's probably best if they forget the whole thing ever happened, they instead go for round two in the sack.
And finally, Thorn ends up bringing Alyssa home from the party. While her ploy to make Mark jealous by making out with Thorn at the bar all night didn't work, she still had a nice time. That is, until Thorn asks if she wants to take a bath together. Dirty mind. No dice. Looks like the only one Thorn has to talk to tonight is his pet bird, Jojo. So what else is new?