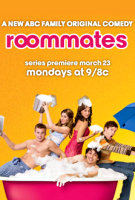 TV Info
---
Episode Premiere
May 04, 2009

Distributor
ABC Family

Genre
Comedy

Show Period
2009 - 2009


Cast and Crew
---
Screenwriter
Chris Case, Douglas Smith
Main Cast
Synopsis
---
James' mom, Melinda, is coming to visit, and James has pulled out all the stops, including a lavish meat 'n' cheese platter. She's going on her first date since her divorce, and he's a little worried. He gets even more unnerved when she arrives at the apartment and starts bombarding him and his roommates with awkward sexual question. So Hope and Katie step in and give her a little girl advice before the big date, including telling her that, in this modern era, ladies can make the first move.
While they're at the apartment waiting for Melinda to get back from her date, Katie and Hope discuss Mark. Katie claims she may actually like him, but she's confused by him going around kissing everyone. (Let see: Hope, Katie, and the girl from the bar last week... that makes three. Pretty good for a nerd!)
But the roommates have a bigger problem on their hands: When James' mom gets back from her first date, all disappointed that it didn't go well, Hope and Katie tell her she can stay as long as she wants. Uh-oh. So a lonely and bummed Melinda launches a cleaning rampage that lasts many days, and far outlasts her welcome. The roommates all seek refuge in the bathroom to discuss the situation, and Mark volunteers to go make her feel better.
Unfortunately, his pep talk makes her feel a little TOO good, especially when he tells her what a beautiful woman she is. Melinda gets turned on and starts trying to make a play for Mark! Hope and Katie are watching all this happen from the hallway, and they immediately pull Mark into the bedroom and tell him to let Melinda down gently. But before he can even get those words out of his mouth, Melinda goes for a full-on make-out with him, which, meedless to say, is freaky for both Mark and Katie (who's watching).
So Katie and Hope converge with Mark in the bedroom for Plan B, which involves him doing "Jurassic Mark," this weird, dinosaur-like trick he does with his hands which is sure to freak out Melinda. Luckily for all parties, the tricks works and brings Melinda to her senses. She pulls Katie and Hope into the bathroom and reveals that, because Mark made her feel better, he also stirred up some dormant sexual feelings. But she realizes it's time to go. A relief for everyone -- except James, who happened to be hidding in the bathtub during the whole confession, and unfortunatelly had to hear about Mark making out with his mom. Awk-WARD.
Oh, and Melinda's parting words? She says that if either Hope or Katie has design on Mark, they should go for it, 'cause he's a special one. Will Katie take her advice?