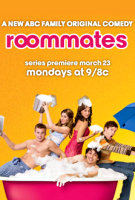 TV Info
---
Episode Premiere
May 04, 2009

Distributor
ABC Family

Genre
Comedy

Show Period
2009 - 2009


Cast and Crew
---
Screenwriter
Jana Hunter, Mitch Hunter
Main Cast
Synopsis
---
Mark, Thorn, and James are at the apartment waiting for Katie to comeback from Chicago. Mark's freaking out about whether or not slept with her boss, David, on their business trip. James tells him that if she says the weekend was "fine," it's code for not having had sex, but "good" means they did. Great, except when Katie comes in the door, she tells the guys it was "fine" but tells Hope it was "really good." So did she or didn't she?
Mark decides to take matters into his own hands with a pair of pricey tickets to the Broadway musical "Chicago." But he tries to donwplay the date-y aspect of it by pretending he got the tickets "for free," it's not exactly like it was a date... or like he made a move on her (or so they think). And besides, David's about to take her to the best restaurant in town! So Katie decides to go to dinner with David, and Hope ends up at the theater with Mark. He's so not happy.
At the beginning of "Chicago," Mark's freaking out, asking Hope what exactly a "business dinner" with David means. When other theater-goers start shushing them, Mark yells out that he paid $300 for the tickets, and he can talk if he wants to. The two eventually get escorted out of the theater, but now Hope's figure out that Mark downplayed the whole date thing, and she can't wait to tell Katie.
Meanwhile, Mark dashes over to the restaurant where David and Katie are on their "business dinner," and catches sights of them feeding each other bites of foof. Heartbroken, he runs to the bar to meet up with Thorn and James, and a cute girl starts hitting on him.
David, meanwhile, is still gunning for Katie, but he tells her over dinner that he's willing to wait for her to make up her mind about pursuing a romance with him. So now Katie has to choose: David and Mark?
When Katie comes home from her dinner, Hope's waiting on the couch with the news that Mark actually brought those tickets. Katie rushes to the bar to confront Mark about the "Chicago' downplay," only to walk in on him kissing that cute girl. Uh-oh. So now what?