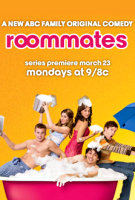 TV Info
---
Episode Premiere
April 27, 2009

Distributor
ABC Family

Genre
Comedy

Show Period
2009 - 2009


Synopsis
---
It's morning as usual for Katie and Mark: They're all dressed up for work, and, sadly, Hope's still jobless out on the couch. Hope has a little routine in which she not-so-subtly pressures Katie to get her a job, and Katie's not really feelin' it. We get it -- having your unemployed roommate pick imagined lint off your sweater while convincing you to talk to your boss wouldn't really be our thing, either.
At the office, Mark's lamenting his last day as a temp -- after all, he wants to spend as much time with Katie as possible. But that little moment is ruined when a buff and tough David Schick walks in, proudly holding his enviromentally friendly bike in the air. Oh yeah, not only is Katie's new boss good-looking, rich, powerful, and charming, he also cares about Mother Nature. Mark's got serious competition now.
David calls Katie into his office and starts changing out of his sweaty bike gear while telling her to come up with "five fully fleshed" campaign ideas for an upcoming green initiative... while he's baring his abs to a gawking Katie.
Later that day at the apartment, to help Mark compete with David, Thorn brings over a chicken so he can start nurturing his own organic eggs. And while the chicken's squawking away in the kitchen, the girls are having a passive-aggressive verbal war in the living room. Hope wants Katie to run her green-initiative ideas by her, but Katie's not incredibly thrilled about doing so. When she finally does unveil her master slogans ("Green is the new black, " for example), they're kind of lame... and James (who's watching from the kitchen with Mark) can tell. Hope tells Katie her idea, which involves a sexy woman turning off a light switch ("Turn me off to turn me on"... get it?). Katie says she'll play around with that idea."
Back at the office, it's the big idea-unveiling day. Katie tries out her first three slogans, and they don't fly with DAvid. So, as her last resort, she pitches Hope's idea: David loves it, and Katie ends up taking the credit for it. Back at the apartment, she tells James she did a bad, bad thing, just as Hope comes in to ask how the ideas went over. Before she can tell Hope the truth, David calls from the office. He says over speakerphone that he pitched the light switch idea to the board, and they loved it and are making it into a national campaign. Hope heras all of this and thinks it means Katie pitched her idea and got her a job. Before Katie can tell her otherwise, Hope's spreading the word to her entire family that Katie nailed her a gig.
To remedy the situation, Katie dresses sexy for work the next day to try and get David to hire Hope. Alas, it doesn't exactly work out. But Katie'd better remedy the situation soon -- Hope thinks it's her first day on the Job, and she's working from home. but while an inattentive Mark is practicing his acting lines, Hope runs to the office to try to fill out her paperwork.
When Hope gets there, she comes face-to-face with David, and Katie's hoax is revealed. Katie's forced to admit to both Daivd and Hope that she stole Hope's idea. But as the two girls are having a heart-to-heart (Hope eventually forgives her... she understands those tough work pressures), David realizes they make an unbeatable duo, and hires Hope. That means Katie and Hope will be co-workers! All's well that ends well, right?