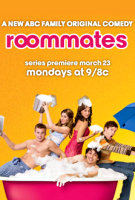 TV Info
---
Episode Premiere
April 27, 2009

Distributor
ABC Family

Genre
Comedy

Show Period
2009 - 2009


Synopsis
---
Mark and James are at their regular bar, discussing Mark's obsession with Katie and when he's finally going to ask her out. Mark says he's waiting for her to come off the bad breakup with her ex, Ben, and that he needs some kind of "sign." Just then, Hope comes in and spots Ben lurking by the bar, chatting up a hot girl. she freaks out, because Katie's due to meet them there any second.
When Katie shows up, Mark and Hope try to get her to go to someplace else, but Katie's not having it. Then she spots Ben sitting at a table with his new hot date, flips out, and starts yelling at him. She declares that if he's moving on, then so will she, because she can, darn it! Could this be Mark's chance? Guess he'll need to brush up on his asking-out skills. Thorn gladly tries to help him out with that later.
Back at the apartment, Mark walks in on Hope and Katie purging her life of Ben, including the mattress that reminds her of him. When Mark tries to ask her out for a drink, she suggest they go shopping for mattresses instead.
They're lounging on a mattress at the store, getting kinda cozy, as Mark gathers up the courage to reveal his feelings. But then Mr. Smooth spills wine on the mattress (yep, they're serving wine at store... must help open up wallets). Just as Katie's getting paper towels to clean up the mess, Thorn calls and pep-talks Mark into believing that he really could be Katie's type. Turns out he definitely is her type... because in the two minutes that she's away, Katie scores a date with a guy who looks exactly like Mark. His name's Eric, and he owns the mattress store.
So when Katie goes off to her first date with Eric the Mark-a-like, poor Mark stays home playing video games with James, working out his aggression "boxing." When Katie comes home, she's positively gloating: She loved her first date with Eric because he's totally sweet and isn't just trying to get into her pants. She tells the rommates Eric will be cooking dinner for them all tommorow night. He's even bought her mattress! Mark is so not happy.
When Eric arrives for dinner, it's a doppelganger face-off. The guy is basically Mark, but more suave and more sucessful: HE's a chef, and he owns four mattress stores. When he sends Mark out to get with pepper(!), Mark stops by Thorn's place for advice on how to win the game against Eric. Thorn tells him to talk himself up.
Well, Eric stuns everybody with a fantastic dinner, and Mark's score is still trailing well behind as the dishes are being cleared away. But when the two start Wii boxing together, Mark gets a little too riled up... and accidentally hits Eric in the nose. This makes Eric so angry that he lets slip he made dinner JUST to score with Katie. She's shocked and angry and tells him to beat it. So much for the perfect guy.
Later that night, Mark tries again to approach Katie and confess his feelings. But before he can even start, she tells him she's just not ready to date. A disappointed Mark ends up all alone on the couch with his guitar, singing sad love songs.
But there's one upside: Mark finally gets to flex his acting muscles. Seems that Eric appears in all the TV commercials for his mattress stores, and he had a taping scheduled. But he can't appear with a black eye, so he hires Mark to be his stand-in. See, not all was lost, now, was it?