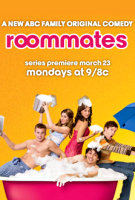 TV Info
---
Episode Premiere
April 20, 2009

Distributor
ABC Family

Genre
Comedy

Show Period
2009 - 2009


Synopsis
---
Mark and James are sitting around discussing their love lives. James is bummed because he's gone two weeks without sex... but Mark reveals he's had a much, much longer dry spell. So when Hope and Katie meet up with them and hear this, they vow to set Mark up with the right girl. Katie volunteers her friend Jenny, who she says is pretty, nice, and likes to drink. Could this be the perfect match for Mark?
On the night of the big blind date, all Mark's roommates (and Thorn, of course) are there to help him score. While the girls give him wardrobe advice. Thorn hands him a vial of a potent black market aphrodisiac made from a butterfly's phenomenons. Hey, he'll need all the help he can get, right? (Oh, and Thorn's looking for any chance ata all to score with Hope, which isn't looking too likely.)
When Jenny arrives, she turns out to be very pretty -- so of course Mark's more awkward and nervous than usual. Their dinner date is a disaster, with Mark fumbling through the conversation as Jenny barely tries to look interested. At the apartment the next morning. Mark is lamenting his failed date when Katie runs in with great news: She just got off the phone with Jenny, who's crazy about him and wants another date! (Uh, really? Could Katie be stirring the pot here, making stuff up to get her pals to try again?)
On the night of the second date, Mark's at the bar, mulling over the situation with Thorn. How could it be that she's into him, when their date was totally awkward? Sure enough, when Jenny arrives, she's snappish and disinterested, just like last night. (Thorn has taken off, BTW.) But then KAtie drops by just to "check in," and things get even more awkward. Right after Katie leaves, Jenny accuses Mark of having a thing for her. He denies it, but it's totally obvious he's lying. She measures him, saying she doesn't blame him... 'cause SHE has a thing for Katie too. Oh, so it's like THAT, huh?
The date goes swimmingly after that, mainly because they're bonding over Katie, so Mark forgets to be nervous. Jenny thinks he's sweet, and they end up making out -- big time -- which leaves Mark way confused. Could Jenny be into both him AND Katie? The next day, he turns to Thorn and James for advice. James is checking out Thorn's place for the first time (curiosity got the better of him). But when it comes to advice, those two are dumb and dumber, so Mark walks away worse off than he started.
Date three with Jenny could be the Big Night -- at least Katie thinks so. But when the new lovebirds end up back at the apartment, Jenny tries to get Katie to stay and hang out. She also turns to Mark and asks if he'd "like an extra body" in his bed that night. This leads Mark to believe he's about to have threesome. He gets flustered and runs into the kitchen to ask James for advice. James says go for it. And when Katie comes into the kitchen and tells Mark he "deserves it," he thinks both girls are down with the plan. So far, so good. But as he and Jenny start making out in the living room, he changes his mind and tells her he doesn't want a threesome with Katie, after changes his mind and tells her he doesn't want a threesome with Katie, after all.
What?! Jenny jumps back, appalled that he'd even think that was happening. She just meant she had a GIRL crush on Katie. Totally paltonic! But, but... Mark asks, what about the "extra body?" She meant her OWN body. Idiot. He watches helplessly as Jenny stomps out the door. He was so close... and he completely blew it.
So as usual, Mark ends up on Thorn's couch, lamenting the state of their sexless, loveless lives. Well, there's always next time...