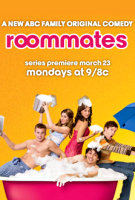 TV Info
---
Episode Premiere
April 06, 2009

Distributor
ABC Family

Genre
Comedy

Show Period
2009 - 2009


Synopsis
---
It's just another morning at the coffee shop for Hope ... until Katie walks in. Hope still doesn't want Katie to know about her job, remember? So she frantically calls Mark to get him to make up some lie that will lure Katie out of the coffee shop. He calls her and fibs about a nearby Brangelina spotting, which works. Katie shrieks about it, and the whole store empties out. OK, crisis averted. But when's Hope going ti spill the truth? After all, Mark knows, and it turns out Kames does too.
So when Katie wants to interview at Hope's former workplace, maybe it's Hope's chance to come clean. Nope! Insteaad, Hope freaks again and gets Mark to make another phony call to Katie and say that all the positions are filled. But when Mark has to make the call pretending to be "Chip Wallfridge," the head of ad sales, he blows it and hands the phone to Thorn, who pretends to be Chip's British associate, "Phil McKrakken," (Geti it?) Together, they somehow manage to offer Katie a job. Oops.
When Mark calls back in his fake persona to try to fix the mistake, he ends up listening to Katie's life story on the phone. The next morning, Katie tells all her roommates that she's kind of into this myterious Chip Wallfridge. James, who's on to both Hope and MArk, mischievously convinces her to call him back. Though "Chip" doesn't pick up (Chip's phone is actually Hope's "man phone", the one she reserves for rejected men), at least Hope's secret is out in the open between her and James. But poor Katie's still in the dark.
That night, Katie makes another late-night phone call to Chip, and she and MArk (as Chip) wind up talking for hours. She's so into him that she ends up asking him out, over the phone. An excited Mark starts to say yes, but then pretends he's losing the signal and hangs up.
Now Katie wants to meet Chip in person and apologize for the transgression. To stop her, MArk gets Thorn, aka "Chip's associate,"to call her. Thorn/Phil tells Katie that Chip has committed suicide(!). A devastated KAtie announces to her roommates that she wants to go to the funeral, which finally prompts Hope to come clean.
When Katie finds out she's been had by Hope (and for so long!), she's furious with her friend and also with the man who's been pretending to be Chip. Luckily, James jumps in and takes the fall for Mark. But that doesn't mean Katie's not still mad at everyone.
Later that night, Hope and Katie make up, and both admit they've been going through a rough patch in their lives. Hope also gets a call from a myterious British man looking to take her out. So imagine who a totally dolled-up Hope meets at the door? Yeah, that would be Thorn. Hope is not impressed.
Think that'll be the end of all the lies?