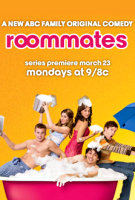 TV Info
---
Episode Premiere
March 30, 2009

Distributor
ABC Family

Genre
Comedy

Show Period
2009 - 2009


Cast and Crew
---
Main Cast
Additional Cast
Synopsis
---
It's a regular morning in the apartment -- Mark's watching Katie adoringly as Hope eats breakfast -- Until Ben arrives to pick up his clothes post-breakup. Mark gets the door, but Hope, who wants Ben out of Katie's life, tells Mark to shut the door on him. Then she throws his bag of clothes out of the window.
To help Katie through the breakup, Hope takes her lovelorn roommate to a fortune-teller. Madame Sapphire tells Katie she's already met the guy she'd destined to spend the rest of her life with, and that she'll find him in her dreams.
Mark still hasn't introduced Thorn to the new roommates, but that doesn't keep Thorn from stopping by. Well actually, he climbs up the fire escape and eavesdrops, the talks to Mark from out there. (Yeah, it's pretty weird.)
He tells Mark he's just heard Hope and Katie talking about what Madame Sapphire said. If Katie sees Mark right before she goes to bed, says Thotrn, she'll dream about him. Also, Thorn found Ben's clothes on the fire escape, and he thinks they're super-cool. He starts wearing Ben's jacket and hat everywhere.
Mark follos Thorn's advice and shows up at Katie's bedside that right to say good night. Thrn Mark does. Then Jamie does. When she wakes up in the morning, lo and behold, Katie says she DID dream about Mark. And he was having sex with James! Oops.
while Hope and Katie are getting a second tarot reading, Thorn pays another fire-escape visit to Mark. He reports that he's bribed Madame Sapphire to put Mark's name in the envelope that the designates Katie's choosen One.
That night, while katie's sleeping, Mark has Thorn clim in her window to steal the envelope. But she wakes up just as Thorn -- wearing Ben's hat -- is climbing out, and she thinks she dreamt Ben was the mysterious figure exiting via the window. Thorn hands Marks envelope, but when James walks in and finds Mark holding it, they begin wrestling. Katie charges into the living room, finds the envelope in Mark's hand, and announces she's decided to open it.
When she does, the letter says "The One" is named "Clark." Huh? Nice one, Thorn!Later, when Mark is confornting Thorn about his mistake at the restaurant, Hope and Katie walk in -- and see Thorn in Ben's clothes. Hope decides to take revenge by pouring a full pitcher of beer on Ben's head -- only to realize it's not him. And that's how Thorn finally meets Mark's roomates.
As for James? Oh, he just had a sex dream of his own... and it finally Mark taking off his pants. James wakes up screaming. So much for sweet dreams.