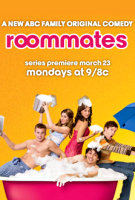 TV Info
---
Episode Premiere
March 23, 2009

Distributor
ABC Family

Genre
Comedy

Show Period
2009 - 2009


Cast and Crew
---
Director
Andrew D. Weyman
Screenwriter
Robin French, Kieron Quirke, Matt Green
Main Cast
Additional Cast
Synopsis
---
Mark Fletcher's on his way to yet another job when -- BOOM. He sees Katie Bowman in the elevator. Katie Bowman! He crushed on her all through high school and, even though he's finished college and is an aspiring actor in New York, he's still totally into her. After a mad dash to catch the elevator, he strikes up a conversation -- awkwardly, 'cause that's how Mark rolls.
He finds out she's hooked up with Ben, the jerk who once glued Mark's hands to his face in high school. Bad news for mark. The good news? one of Katie's roommates just moved out, and she's looking for a new one. Would Mark know anyone? Uh, you bet he would. More bad news? Mark doesn't know it yet, but Katie's still really into Ben, even though he wants to call it quits.
Actually, MArk wasn't looking for a place. But now that he's found a way into Katie's life, he's all over it. Back at his own place, his current roommate, the very quirky Thorn, helps him prep for an interview with one of Katie's two other roommates. Then they go to a coffeehouse, where Mark has a run - in with the barista. Unfortunately, turns out that barista is Hope, the other roommate.She's just taken the job because she was recently laid off from her high-powered gig as a TV exec. Mark has no clue that they may end up being roommates. Hope has no clue that the guy she's giving such hard time may soon hold the keys to her secret: Hope doesn't want Katie to know she's lost her great job.
Mark goes to a fancy office and meets roommate No. 3, James, who subjects him to a ridiculous interviev full of weird tests. James asks why Mark's so "unusually motivated," but he OKs him anyway. (We'll soon learn that James will do most anything for a laugh at someone else's expense.)
Later, an elated Mark meets up at a restaurant with Katie and her other roommate -- and discovers it's Hope. Still desperate to keep up her TV-exec front, Hope claims she's never met MArk -- while signaling to him not to blow her cover. Suddenly, he has leverage. These two may know each other's dirty secrets (Mark is obviously deperate to move in, and Hope isn't working in TV), but they'rs not going to expose each onther in front of Katis... yet. OK, then! Mark's moving in!
But he hasn't even moved in yet when Katie approaches him for advice -- on whether or not she should hold back from a heated romance with someone her roommate, Hope, doesn't approve of. An ecstatic MArk thinks she means him. He tells her to go for it, no holds barred. But, of course, Katie means Ben... and Mark sadly finds this out when he runs into his old nemesis who's just leaving the apartment -- and spilling a smoothie all over Mark's pants. Katie tells Mark to take them off and wash them immediately.
So, when James and Hope come home to find their new roommate half-undressed and various other sundry evidence everywhere (they're remnants of Katie and Ben's recent romp), nice guy Mark jumps in and takes the fall for her. Katie wants to keep her fling with Ben a secret from Hope. Trouble is, the other roomies now think Mark's a perv. Well, at least Katie's grateful. Wonder what other secret and surprise these new roomies have in store for each other?