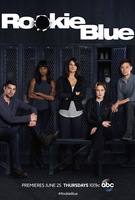 TV Info
---
Episode Premiere
August 08, 2013

Distributor
ABC

Genre
Drama

Show Period
2010 - now

Production Company
E1 Entertainment, Thump, Inc.


Cast and Crew
---
Director
Kelly Makin
Screenwriter
Tassie Cameron
Main Cast
Additional Cast
Melanie Nicholls-King
Adam MacDonald
Emily Hampshire
Stacy Smith
Aliyah O'Brien
Synopsis
---
POLICE LOG: Officer Noelle Williams is getting married to Staff Sergeant Frank Best. Everyone at 15 Division is invited to the wedding. But duty calls and the bride-to-be is MIA. Detailed report follows:
Everything is going according to plan as Noelle prepares for her wedding day. Actually, nothing is going according to plan. That's because there is no plan, as Noelle seems very preoccupied. Andy believes the bridesmaids need to step up. She even brought her own calligraphy pen. Traci is off to do wedding errands until her car overheats. Fortunately, Steve Peck offers to drive her around for the day. These two are getting pretty chummy. In other relationship news, Chloe wants to tell godfather/bridegroom Frank that she's dating one of his charges. Dov... not so much.
Andy and Nick assist a group of elderly citizens who have been robbed during a bus trip by the driver. The interview process threatens to delay Andy's efforts to make it to the big ceremony happening later that evening. Best Man Sam knows she loves weddings. Andy promises to save him a dance especially since Marlo is out of town. Oliver doesn't want to go to the wedding since Zoe is attending with her new boyfriend. Dov convinces him to give Celery the witch a call to be his date. Oliver still needs a suit. Fortunately, one of the robbery victims knows a tailor who makes house calls.
The theory is that the bus robbery was an inside job. The search is on to find the elderly victim who may be in cahoots with the driver. Nick realizes that one couple did not have their wedding rings stolen. This is odd because everyone else had theirs swiped. The elderly man has a nephew with a sketchy past. He was the fake bus driver. Andy and Nick track the nephew down at his place of work, but the guy climbs up a tower to avoid capture. The frustrated cops must wait it out until backup arrives to bring the guy down. Andy is going to miss the wedding.
Noelle goes MIA on her big day. Maid of Honor Traci must find her before Frank finds out. She tracks down the bride-to-be in her home packing things up. She no longer wants to get married after a recent doctor's appointment revealed a lump. Noelle fears the worst even though the biopsy results aren't back yet. She doesn't want Frank to have to look after a sick wife. Much to Traci's surprise, Steve offers to drive Noelle wherever she wants to go. The guy never stops yapping during the entire trip. Noelle wonders if he's for real. She ultimately realizes that she needs to come clean to Frank in person rather than run away.
Oliver introduces Celery to all the guests at the wedding. This includes his unexpectedly dateless wife, Zoe. She and her boyfriend broke up. Gail is also the victim of a recent relationship implosion. That's why she asks forensic pathologist Holly to be her plus one. In the main reception area, Dov blurts out that he's dating Chloe in an attempt to distract Frank from the fact that Noelle is MIA. Actually, she's in a back room. Frank is pulled away before he can fully digest the whole Dov-Chloe bombshell.
Noelle breaks the news that she has a lump. Frank assures her that whatever happens, they'll get through this together. He says, "Baby, it's just me." That's something Noelle always says to him. The wedding is back on. Dov puts the ceremony on speaker phone so Andy can listen in from the squad car. The "I do's" are said. Andy wells up. She thinks the whole thing is magical. Nick admits that's how he feels about her. What they do now is up to her. Andy's not ready to figure all this out so, for the moment, she and Nick will just share an apple. She lets out a little smile when he's not looking her way.
The wedding reception is in full swing. Oliver convinces an uncomfortable Celery to dance with him. Suddenly, she's a little more at ease. Traci and Steve feast on all the sweet treats at the dessert table while Gail and Holly share an unexpected smooch in the coat check area. Andy eventually arrives at the reception where she tells Nick she needs a little more time. That's cool. Nick says he's not going anywhere. Neither is Sam, who watches the two of them chat while sitting alone at the bar.