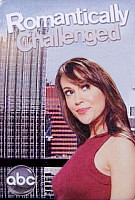 TV Info
---
Episode Premiere
May 17, 2010

Distributor
ABC

Genre
Comedy

Show Period
2010 - 2010

Production Company
Warner Bros. Television, Bonanza Productions Inc.


Cast and Crew
---
Director
James Burrows
Screenwriter
Ted Cohen, Andrew Reich
Main Cast
Additional Cast
Israel Broussard
John Brotherton
Edward Flores
Emayatzy Corinealdi
Elaine Loh
Brian Michael Jones
Donald Li
Synopsis
---
Recently divorced lawyer-mom Rebecca Thomas (Alyssa Milano) makes a date with a really good-looking guy named Leo. She even made the first move by giving Leo some pouty lips and a killer double hair toss. It was actually very smooth. Rebecca's only slightly excited about her upcoming date. As tasty as Leo looks, he gives every indication that he may be the dullest man alive. It's such a tragic waste of hotness.
Rebecca's sister Lisa (Kelly Stables) believes that since a long-term relationship is probably not in the cards, a one night stand may be the way to go. Rebecca's never had one of those before. Her write pal Shawn Goldwater (Josh Lawson) is shocked. He says, "I've never NOT had one." Suddenly, Rebecca is pondering the possibility of some no strings attached sex.
The fourth member of this quartet of friends is Shawn's workaholic roommate, Perry Gill (Kyle Bornheimer), who is embarking on a week-long vacation. First on his list of downtime activities is a trip to the Pittsburgh Museum of Applied Arts. There's an exhibit there on 18th Century buttons that'll "change the way you look at clothes-fastening forever. Perry drags a reluctant Shawn along on his little museum adventure.
Lisa suggests that the reason Shawn feels compelled to do whatever his roomie says is because Perry pays all the bills. Shawn believes he's just an accommodating person, much like the smallest guy in prison. It's not long before the boys are off to dig for musket balls at a Revolutionary War battlefield. Yes, these guys really know how to party.
Eventually, Shawn can't take it anymore. In order to get out from under Perry's thumb, he makes a drastic move. He decides to get a job. But the only gig he can get is as a bicycle delivery boy for a Chinese restaurant. After Perry finds out about the job, he submits one of Shawn's stories to a magazine. He knows his buddy shouldn't be delivering moo goo gai pan for a living. Just like that, Shawn is a published writer. Of course, since he's only getting 75 bucks for the piece, he's gonna need Perry to float him financially a little bit longer.
When Rebecca shows up in the clothes she had on the night before, she admits to her sister that she had her very first one night stand. Lisa couldn't be more proud. Rebecca wonders what comes next. She says, "When someone does something nice for me I usually send them a thank you note. And I owe this guy multiple thank you notes." Lisa says the point of a one night stand is to "hit it and quit it." Lisa's very succinct.
Rebecca's son Justin (Israel Broussard) reveals that his mom went on a second date with her one night stand. We know, the math is all wrong. Rebecca thinks she gave a clear indication that she was no longer interested by not sleeping with the guy this time around. Unfortunately, what she did was commit a second date slowdown. Lisa tells her that it just lets him know that she wants to turn things into a real relationship. Whoops!
Lisa suggests that Rebecca start pursuing this guy hard so that she'll ultimately scare him away. We're starting to realize that Rebecca's sis may be the queen of bad advice. Come date number three, Rebecca realizes that the reason Leo was blabbing about such boring drivel before is because he was nervous. He says there aren't many women like her out there. He just didn't want to screw it up. Turn out he's really interesting. He's even one of the soldiers who helped find Saddam Hussein. Wow, what a great pickup line!
Rebecca comes clean to Leo about her original thoughts of a one night stand. She spills the details of Lisa's plan to scare him off. Leo says it'll take a lot more than that to scare him away. Then Rebecca goes on to say how once she's with a guy she tends to hang on for a long time without ever letting go. After seeing the panicked look on Leo's face, this romantically challenged mom now knows exactly how to scare a guy away all by herself. That's okay, Rebecca. Even if Leo does head for the hills, we can't wait to see you again.