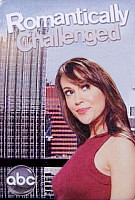 TV Info
---
Episode Premiere
May 03, 2010

Distributor
ABC

Genre
Comedy

Show Period
2010 - 2010

Production Company
Warner Bros. Television, Bonanza Productions Inc.


Cast and Crew
---
Director
James Burrows
Screenwriter
Ricky Blitt
Main Cast
Additional Cast
Synopsis
---
It high school reunion time! 20 years ago, Rebecca and Perry were ditching classes and having a great time at the prom. Well, Perry did the prom thing. Rebecca...not so much. She was supposed to go, but was stood up by a guy named Jesse Powers. When Rebecca showed up at the prom solo, she caught Jesse with another girl. Everyone laughed and Rebecca was dubbed "prom dork." Don't you just love those cute nicknames of youth?
Rebecca would love to show Jesse how she blossomed into a beautiful, successful woman. Unfortunately, she knows he won't be at the reunion. He lives in Germany, as any good Facebook stalker would know. But when Vanessa discovers that Jesse is coming into town, she plans to make an appearance at the reunion. This bums out Perry because he knew that Jesse was going to ditch Rebecca come prom night. He never told her and has been keeping it a secret all these years. Whoops.
At the reunion, Jesse catches Rebecca off guard by apologizing for what happened on prom night. He'd like to give the details of why he did what he did over dinner. Rebecca agrees to hear him out, which means Perry's secret will likely be exposed. A preemptive strike is in order. Perry asks Jesse to stay away from Rebecca. Why? Well, because he's in love with her. He's not really, but the ruse is enough to get Jesse to back off.
Rebecca can't believe that Jesse Powers stood her up again. Perry says, "That guy is...I don't want to be harsh here but...worse than Hitler." Jesse does eventually call to explain himself. He spills the beans about what Perry told him. Rebecca knows it's not true and finds out why. She decides to teach Perry a little lesson by telling him she's in love with him, too.
Perry goes into total panic mode when Rebecca tries to get affectionate. There's even some short-lived straddling. Perry has no choice but to come clean. Rebecca forgives him, but Perry still wants to make it up to her by giving her another prom. That would be a pretty tall order. Rebecca will settle for a night of drinking schnapps while listening to Bryan Adams tunes. "Oh, thinkin' about all our younger years..."
Shawn discovers that Lisa has a secret stash of hot friends, one of them being a beautiful woman named Vanessa. Shawn's been looking for something to do since his cable company dropped the hockey channel, so he sleeps with Vanessa. It was going to be a one night stand until Shawn realizes Vanessa gets the hockey channel. This could be the beginning of something special that will undoubtedly end once the playoffs are over.
Vanessa loves the fact that Shawn likes to cuddle and he loves the fact that the hockey channel is on TV whenever they do so. Shawn is devastated to hear that Vanessa is heading out of town for a week. There's only one thing he can do if this relationship is to survive. He must steal Vanessa's key, have a copy made and break into her place to watch the games while she's gone. Ah, the things we do for love.
Lisa knows Shawn far too well to believe that he's actually fallen for her friend. She also knows that Vanessa is out of town. So, why would Shawn tell Perry he was heading over to her place? Lisa figures things out and makes a beeline over to Vanessa's place to chastise Shawn.
Lisa's lecture is cut short as things get a little steamy. Oh, relax. Lisa would never do anything with Shawn. She would, however, let him watch the hockey game while she takes Vanessa's amazing steam shower for a little test drive. When Vanessa comes home early, Lisa must towel off and head home. As for Shawn, let's just say: Game Over.