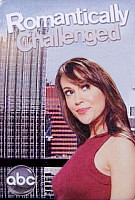 TV Info
---
Episode Premiere
April 26, 2010

Distributor
ABC

Genre
Comedy

Show Period
2010 - 2010

Production Company
Warner Bros. Television, Bonanza Productions Inc.


Cast and Crew
---
Director
James Burrows
Screenwriter
Ricky Blitt
Main Cast
Additional Cast
Daniel G. O'Brien
Nadine Heimann
Nasty Nes
Synopsis
---
Rebecca is tired of seeing her sister date a string of yahoos. She wants Lisa to go out with a nice guy for a change. The waiter at the coffee house seems to fit the bill. His name is Neil and he's known for his service with a smile. But Lisa is more interested in a guy with a mullet and a churro. Or as she likes to call him - "the future Mr. guy I had sex with twice." As much as she likes churro man, Lisa agrees to go out with waiter guy to make her big sister happy.
Lisa's date is a total bust. The problem: Neil is too nice. He was pulling out chairs, open doors and even offering Lisa his coat. Neil's a total loser (Lisa's words, not ours). Rebecca believes Lisa is reverting back to her old ways of only dating creeps. She says, "The last time I saw you with a nice guy was in high school. And he was our teacher." Lisa warns Rebecca not to interfere in her love life. Yeah, that's not gonna happen.
Rebecca encourages Neil to continue to pursue Lisa and quickly learns that Neil truly is a nice guy. We're talking scary nice. When the air conditioner kicks on, the man races six blocks to get a fleece from his car so Rebecca doesn't get a chill. It seems Lisa's loser instincts were on the money. She decides to teach her sis a lesson about meddling by setting Rebecca up with Neil. They'll double date!
Neil is in full nice guy mode come the night of the big date. It's beyond maddening. During a moment alone, Rebecca apologizes to Lisa for not trusting her judgment. She says, "This guy's even worse than you said. He's unbearable!" Of course, Neil overhears the whole thing. Rebecca tries to apologize, but Neil says it's his fault for hovering. Such a nice guy.
Perry is having his wisdom teeth removed and he needs Shawn to pick him up from the dentist's office. Unfortunately, Shawn has a habit of only looking out for himself. He even ate all of the pudding Perry was saving for his recovery. Shawn promises to buy some more; he just needs Perry's credit card to do so. He feels bad for asking, as he used to have the number memorized.
As Shawn follows a trail of sticky notes reminding him to pick up Perry, he runs into a beautiful woman carrying groceries. They smile. They chat. They flirt. Shawn tells her that he installed an irrigation system for all the beggar children in India. File that last one under "flirting." When attractive grocery lady invites Shawn up to her place, he gladly accepts. After all, he has nothing else to do. Right?
When Perry learns the reason Shawn blew him off, he kicks him out. Shawn is forced to stay at Rebecca's until Perry forgives him. Rebecca hopes that'll be sooner rather than later, as Shawn's naked sleepwalker routine is gonna get real old, real fast. Unfortunately, Perry is tired of his roomie always thinking things will just blow over. He leaves all of Shawn's belongings outside the front door. Those belongings consist only of a toothbrush and one of those big foam fingers that reads "We're Number ONE!" Shawn's a minimalist.
In a desperate move to make amends with Perry, Shawn has his own wisdom teeth removed. He wanted to experience the same pain as his buddy. But it's tough to find a dentist willing to remove healthy teeth, so Shawn just faked aftereffects of surgery by stuffing cotton swabs in his mouth.
Perry believes Shawn doesn't care about him. He's forced to think again when Shawn rattles off a series of tidbits that only a true friend would know, like the fact that Perry plans a guest list for his fantasy wedding every single night before he goes to sleep. The two friends make up and Shawn suggests they celebrate by ordering a pizza. Perry is about to reach for his credit card, but there's no need. Shawn has the number memorized.