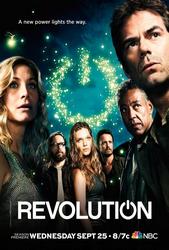 TV Info
---
Episode Premiere
October 08, 2012

Distributor
NBC

Genre
Sci-Fi

Show Period
2012 - 2014

Production Company
Bad Robot, Warner Bros. Television


Cast and Crew
---
Director
Felix Alcala
Screenwriter
Anne Cofell Saunders
Main Cast
Synopsis
---
Deep in the woods, Charlie is sprinting for her life. A member of the Militia captures her and holds her at knifepoint for stealing a backpack full of rations. As he begins to cuff her, Miles intervenes and clocks the guy right in the face, knocking him to the ground. The man becomes complacent after learning that Miles Matheson is standing over him; just the name alone elicits terror, and this doesn't go unnoticed by Charlie. As Miles questions the man, we learn Captain Neville has just passed through this territory a day ago with Danny in his custody. Charlie, Nora and Miles are getting close.
Maggie and Aaron are waiting for Charlie and the gang in deserted Lowell, Indiana, with Maggie pacing the street nervously, worried about Charlie. In her despair, Maggie's haunted by a flashback to right before the blackout: we see Maggie dressed to the nines in a fancy hotel room, video chatting with her kids. Maggie and Aaron agree to keep the pendant a secret, understanding that as valuable as it seems to be, it's equally dangerous. Moments later Charlie, Nora and Miles enter Lowell, and the group reunites in their quest to bring Danny to safety.
Night falls over the town, and the group bumps noses with a group of rabid dogs, feasting on a dead deer. Upon seeing the fresh flesh, the dogs charge after the group, who narrowly escape by climbing a fence. Aaron's leg, however, is bitten. Danny, Neville and a gang of Militia are traveling through the night when Danny warns the Captain that a storm is coming, and they should find shelter. His advice is haughtily ignored. Monroe is still holding Rachel captive, and he continues to pry for more information. He wants to know why Ben was working for the Department of Defense and how he knew the power was going to go out before it did. Rachel refuses to budge, so Monroe sends in Strausser, who unravels his knife roll and apologizes in advance for what he's about to do. Rachel's about to pay a painful price for her silence.
As Maggie bandages Aaron's leg, Nora confronts Miles, asking him to take it easy on Charlie. Miles reveals that he's leaving them all behind anyway, seeing as the entire Militia's after him. Nora tells him to cut the crap: she knows he's leaving because he's scared to get close to a member of his family. Miles refuses to accept any responsibility for Charlie, or her difficult circumstances. Family or not, Miles doesn't even know the girl. After overhearing their conversation, Charlie flashes back to when she was 12, when Rachel left Ben, Danny and a young Charlie behind to go on some kind of mission - alone. Charlie's tearful cries ring through the woods as she calls after Rachel, "Mom! Don't go! Please! Don't go!"
Morning has come, and one hell of a storm is brewing as Neville and his men seek shelter in a shack. Left alone, Danny immediately begins to devise an escape plan. At an abandoned amusement park, Miles uncovers Nate, who's been on their trail for days. The crew decides to keep him captured in hopes of learning clues to Danny's whereabouts. Maggie advises Miles against leaving: Charlie needs him, and he needs her. We learn Maggie spent years trekking across the country trying to find a way back to her family in England, but all her efforts proved futile. She was ready to commit suicide when she came across Ben and his family, who gave her a reason to live again.
Suddenly, the crew finds themselves surrounded by the ferocious pack of wild dogs, so they run into a diner for shelter. The dogs' owner, Ray Kinsey grabs hold of Maggie, stabbing her in the leg as payback for killing one of his dogs. Miles rescues Maggie and carries her back to the safety of the diner, but it may be too late. Kinsey struck an artery, and Maggie's bleeding out. Meanwhile, the Militia's horses are freaking out as tornado clouds gather overhead. Danny manages to escape the shack where they've sought shelter but he hasn't gotten very far when Neville punches him into submission. As the tornado descends, Danny and Neville run for what looks like a storm cellar door.
Danny and Neville are trapped in an underground shelter, waiting for the storm to pass. Neville doesn't understand why Danny regards him as such a monster. After all, Neville has a son, too; he just wants to make a better future for him, just like Ben did for Danny. At the amusement park, Nora and Miles go after Kinsey while Aaron and Charlie get ready to stitch up Maggie's artery. While gathering supplies, a pair of hands grabs Charlie and drags her out of the diner.
Back at the shack, the roof's caved in, trapping Neville. Worse yet, there's an old-fashioned cast iron stove that's about to drop through what's left of the first floor and crush him to death. Danny's about to run for his life, but Neville convinces him to help. Surely Ben would never have left another human being alone to perish! Once Neville's free, he immediately pounces on Danny, sneaky and underhanded as ever. "You're important, kid," he says as he claps on the handcuffs once again. "A lot more important than you even know."
Charlie finds herself tied to a chair in the shelter - more like a maze of tunnels - beneath the rollercoaster that Kinsey calls home. She begs to be let go and claims no one wants to hurt him, but Kinsey knows in this world, it's everyone for themselves. He doesn't trust a soul. Miles and Nate come looking for Charlie and manage to cooperate long enough to kill off Kinsey. They save Charlie, but just by a second. The contraption that Kinsey entrapped her in nearly kills her.
The trio run back to the diner, where Aaron is still operating on Maggie. Though he's committed to the job, Maggie's pale and weak. Fading in and out of consciousness and filled with hazy memories of her beloved children, Maggie succumbs. Charlie is devastated and unable to control her grief; everybody in her life seems to leave her. A new kind of pain etched across his normally stony features, Miles takes Charlie in his arms and promises her he's not going anywhere.
Monroe is back in Rachel's room, questioning her character as a mother. How could she have abandoned her kids? Did she even feel a thing? Monroe's eager to find out, and he will soon enough. They're bringing Danny in any day now, and Monroe plans to finally break Rachel's strong-willed silence with the promise of Danny's torture. We're back in time once again, watching Rachel leave her kids, except now we see it from a different angle. A young Charlie is begging her not to go, and although Rachel never once turns around, tears are streaming down her face. She arrives in a barn. "I came like you asked," she says to a man in shadow. As he steps out of the barn, the man turns out to be Miles in full Militia uniform. Rachel makes him promise she'll get to see her kids again as she surrenders, allowing herself to be handcuffed.