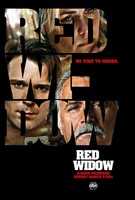 TV Info
---
Episode Premiere
March 17, 2013

Distributor
ABC

Genre
Drama

Show Period
2013 - 2013

Production Company
ABC Studios, Endemol


Cast and Crew
---
Director
Billy Gierhart
Screenwriter
Jameal Turner
Main Cast
Additional Cast
Fernanda Andrade
Erin Cahill
Sam Hennings
Natalija Nogulich
Bradley Stryker
Synopsis
---
Kat knows someone who makes fake IDs. Marta offers the guy $60,000 to create passports for her and her family. The plane is to leave forever in less than two days. No one can know where they are going. This is especially true for Irwin, who is released from prison. He wants to move some pot because he's broke. Mike lets him know that their grower, Orson, doesn't want to do business with him now that Evan is out of the picture. They need to change their supplier's mind. Mike especially needs some fast cash, as Pablo violently swipes his wife's prized painting to make up for some of his debt. Mike makes it look like a random robbery.
James lets Marta know that the government is building a case against her. He says he can get her away from Schiller. Marta wants to do that on her own. Unfortunately, she's summoned to Schiller's office before she can skip town. Irwin is there when she arrives. He asks Schiller to help distribute some of the marijuana. His new partner should help make Orson fall in line. Marta is ordered to supervise the operation. She has no choice but to comply. Marta lets Irwin know that this is one job they cannot fail.
Marta and Irwin head off to see Orson at his beach hideaway. The meeting doesn't go well. Orson isn't interested in doing business with them. Marta wants to talk to the guy again once he calms down. Irwin has other plans. Mike shoots one of Orson's men while he and Irwin were trying to steal his weed. Marta wants to get the guy to a hospital, but they can't go anywhere with a fed lurking about outside. She has Kat place a call to James to lure him away. After that, Marta calls her dad for help. Andrei knows a doctor who makes house calls off the books.
James realizes Kat's call was just an act of subterfuge to get him away from the marina. His conversation with her is interrupted when his wife comes in high as a kite. This lady used to be an FBI agent, too. Back at the marina, Andrei and Irwin get into an argument. This has Marta at wit's end. Later, Andrei pays Schiller a visit. He wants him to leave his daughter alone. Schiller agrees to this only if the old man gives him the rest of his territory. That's not something Andrei willing to do.
Marta enlists Luther's help to try to make things right with Orson. They bring the wounded man back to his beach hideout. Only Marta is allowed to have a conversation with Orson, who punches her in the gut when she arrives at his place. Marta says they only stole from him to prove that his product was vulnerable. Orson doesn't trust her. The feeling is mutual. But at least they are willing to negotiate with each other. Back at the house, Luther sees the drawing Natalie helped Boris create. It's a picture of the boot that was worn by the man who killed his dad. Luther promises Marta he'll look into it.
Marta works out a deal with Orson. She's mad at Irwin for putting her and her family at risk. She won't bail him out again. She knows he only does what he does to get control, but in reality he's helpless. This is helpless feeling is something she vows to never feel again. Later, Marta meets with James at the marina. She wants to know how much he has on Schiller. It's not a lot. Marta says she'll get him what he needs to bury the guy. As for her arrangement with Schiller, she negotiates her fee for working with him. Their alliance has truly begun.